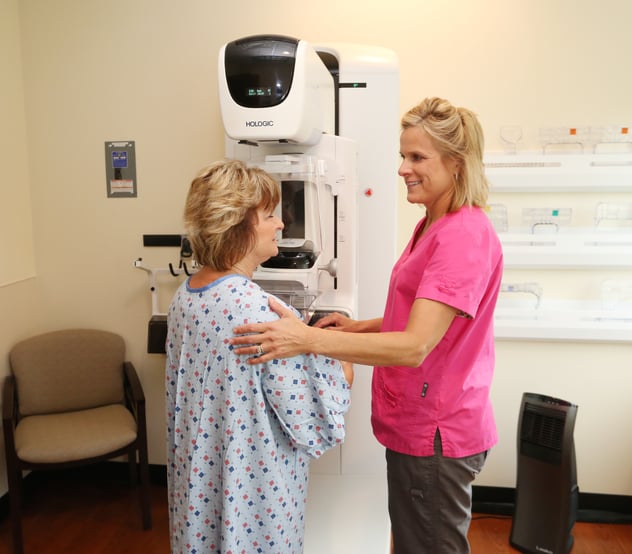 You know you should be getting annual screening mammograms, but how do you choose the best breast imaging provider? One of the first steps to take in preparing for your mammogram is to research the facilities in your area. Here are six questions to ask when deciding which is the best facility for you:
1. What's the facility's customer service reputation?
Customer service is a critical but often overlooked aspect of health care. A provider's level of service can make a profound difference in a patient's experience. Many of us have encountered health care professionals who seem to see us as a problem to solve or a task to check off their to-do list. Especially when you have concerns about your health, being treated with compassion and empathy can make a world of difference. Before you choose a facility, ask friends or family for recommendations, look for reviews online, or ask other medical professionals whose opinions you value.
2. Does the facility have fellowship-trained breast specialists?
Seek out providers in your area who have received fellowship training in breast imaging. A radiological fellowship consists of one to two years of specialized training that follows residency training. After the fellowship is complete, specialists are required to meet continuing education requirements within their field of expertise. A study by the University of California Medical Center Department of Radiology found that breast imaging specialists detect more cancers at earlier stages and recommend more biopsies while maintaining lower recall rates than general radiologists.
3. Does the facility have the latest breast imaging technology?
Not all mammograms are equal. Mammography has evolved a great deal over the years, and newer technologies like breast tomosynthesis and abbreviated breast MRI have dramatically improved the quality of information that breast imaging can provide. These advanced technologies enable radiologists to detect more cancers earlier, when treatment has the best odds of success.
4. Can the facility provide follow up?
Many more women are called back for additional testing after a mammogram than are ultimately diagnosed with breast cancer. Getting a callback after a mammogram is never pleasant, but it helps to understand that this doesn't necessarily mean anything is wrong. Choosing a facility that is capable of providing follow up after a screening mammogram, which may include breast MRI, breast ultrasound, and/or biopsy, allows you to stay with a familiar provider in case additional tests are needed.
5. What accreditations has the facility earned?
Recognition from professional organizations is a positive sign that an imaging provider delivers high quality care. The American College of Radiology recognizes Breast Imaging Centers of Excellence, which meet the organization's high standards of imaging quality and safety. Certification involves a review of personnel education and certifications as well as equipment and quality control procedures. Additionally, the National Accreditation Program for Breast Centers operates a voluntary accreditation program that recognizes facilities' clinical services, professional education, community outreach, research, and quality improvement. If possible, find a provider who has earned professional seals of approval such as these.
6. Does the facility take my insurance?
The Affordable Care Act requires many insurance plans to cover mammography screening without an out-of-pocket cost. Before you book an appointment, however, make sure you understand whether the facility takes your insurance. If you don't have insurance, find out what the exam will cost. Unity Point Health Center operates the Pink Days program, providing free screening mammograms to uninsured and underinsured women in the Des Moines area.
Iowa Radiology is dedicated to providing the very best in breast cancer screening and patient care. We know that having access to quality information can help patients understand how to best support their health and make important choices about their care. Feel free to browse our blog or our downloadable resources for information about cancer screening and other health topics.
Resource
Sickles EA, Wolverton DE, Dee KE. Performance Parameters for Screening and Diagnostic Mammography: Specialist and General Radiologists. Radiology. 2002;224(3):861–869. https://doi.org/10.1148/radiol.2243011482. Published September 1, 2002. Accessed February 15, 2021.