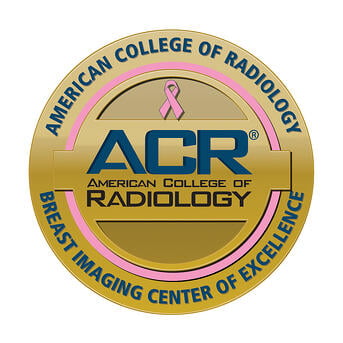 Iowa Radiology is proud to be an American College of Radiology (ACR) Breast Imaging Center of Excellence (BICOE). The ACR is the largest and oldest imaging accrediting body in the U.S. with 34,000 member physicians. It bestows the BICOE designation on breast imaging centers that earn accreditation in each of ACR's voluntary breast imaging programs in addition to the mandatory mammography accreditation program. ACR recognizes the dedication of BICOE recipients to improving women's health through participation in rigorous quality assurance programs, including mammography, stereotactic breast biopsy, and breast ultrasound. Iowa Radiology has also earned accreditation in breast MRI, which will become a BICOE requirement in 2016.
The process of achieving BICOE status involves rigorous review of personnel qualifications, requiring education and certification to perform imaging, interpretation of images, and administration of radiation therapy treatments, as well as scrutiny of equipment, safety, and quality control procedures. The review is overseen by expert, board-certified radiologists and medical physicists in advanced diagnostic imaging. This exacting process ensures that a facility that displays the BICOE seal meets the ACR's high standards for imaging quality and safety.In order to display the BICOE seal, a facility must keep all accreditations current to ensure that it continues to provide its patients the benefit of advances in knowledge and technology.
BICOE designation allows Iowa Radiology to participate for free in the National Mammography Database. This allows us to continue to improve our practice by comparing our practice processes and patient outcomes to peer facilities nationwide.
At Iowa Radiology, we are dedicated to providing the best possible care, both by holding ourselves to the highest standards in the field and by recognizing the importance of the personal side of diagnostic care. We welcome questions from our patients and will always take the time to explain procedures to their full satisfaction. We do our best to ensure that our patients are comfortable while undergoing diagnostic testing, and our physicians are respected for their compassion and communication with patients, families, and referring physicians.