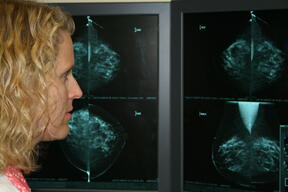 At Iowa Radiology, many of our radiologists have fellowship training in specific regions of the body. This specialized focus is a valuable tool in helping health care providers assess patients' conditions and determine the best course of action. Fellowships begin after completion of residency training and continue for 1-2 years, depending on the program chosen.
After residency is complete, a radiologist may choose to begin practicing right away or to receive specialized fellowship training. Beyond the 1-2 years of the fellowship itself, radiologists who pursue an imaging subspecialty must read exams within their chosen specialty and maintain continuing medical education (CME) credits with an emphasis in their specialty to remain proficient in the field.
Iowa Radiology's staff comprises radiologists with a wide range of specialties to suit the needs of our patients. Our fellowship-trained radiologists include those with specialties in
Breast imaging, including mammography, breast tomosynthesis, breast ultrasound, breast MRI, and breast biopsy. Iowa Radiology has the only breast fellowship-trained radiologists in Central Iowa. We have been designated a Breast Imaging Center of Excellence by the American College of Radiology because of our multiple breast imaging accreditations and high level of quality and safety.
Pediatric radiology, including the use of imaging and intervention to diagnose and treat congenital conditions that commonly occur in infants and children.
Neuroradiology, involving diagnosis and treatment of conditions affecting the brain, sinuses, spine, and central nervous system. This includes conditions such as stroke, cancer, trauma, seizure disorders, and diseases associated with aging.
Body imaging, focusing on the abdomen and major organs, such as the liver, lungs, and gastrointestinal tract.
Musculoskeletal radiology, devoted to imaging of the muscles and bones. Methods include X-ray, computed tomography (CT), ultrasound, and MRI.
Vascular and interventional radiology, involving diagnosis and treatment using a variety of imaging technologies. Minimally invasive treatments are facilitated by the use of technologies such as fluoroscopy, CT, ultrasound, and MRI. A vascular and interventional radiologist may perform procedures such as angioplasty, stent placement, thrombolysis, and drainages.
Iowa Radiology strives to deliver a high level of care to our patients. Providing access to the expertise of fellowship-trained radiologists is one way in which we ensure a high level of quality and accuracy in diagnosis and treatment of a wide range of conditions.
The information contained in the Iowa Radiology website is presented as public service information only. It is not intended to be nor is it a substitute for professional medical advice. You should always seek the advice of your physician or other qualified healthcare provider if you think you may have a medical problem before starting any new treatment, or if you have any questions regarding your medical condition.
Iowa Radiology occasionally supplies links to other web sites as a service to its readers and is not in any way responsible for information provided by other organizations.