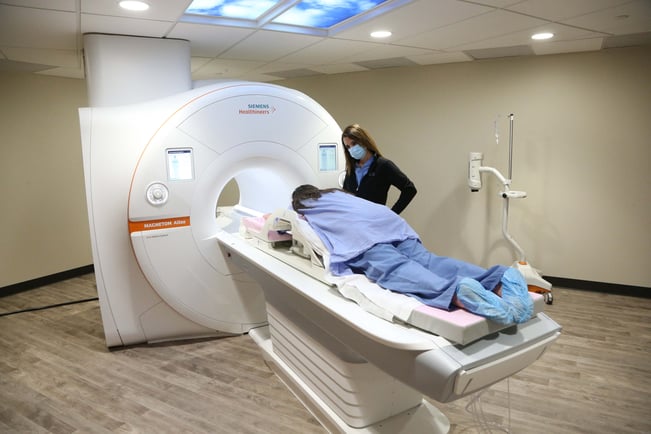 Abbreviated breast MRI is a new enhanced breast cancer screening option for women with dense breast tissue and less than a 20% lifetime risk of breast cancer.
Dense breast tissue decreases the accuracy of mammography.
While tremendous advances have been made in mammography technology, making it better able than ever before to detect early-stage cancers in women with dense breasts, breast density remains an obstacle to early detection. Approximately 15% of breast cancers are diagnosed as interval cancers—cancers that become clinically apparent between scheduled breast cancer screenings—and studies show that women with dense breast tissue to be about twice as likely to develop interval cancers than women with nondense breasts. This is important because interval breast cancers are much more likely to result in a poor prognosis than those identified during breast cancer screening.[1]
MRI delivers more accurate screening.
Breast tomosynthesis (also known as 3-D mammography) has improved cancer detection, particularly in women with dense breasts. A large study published in 2016 showed that the addition of tomosynthesis increased detection of invasive cancer at a rate of 1.3 per 1,000 women with dense breast tissue (and 1 per 1,000 in women with nondense breasts).[2] In a study of more than 2,000 women published in 2017, however, supplemental MRI screening detected an additional 15.5 cancers per 1,000 women who had normal mammogram results. Moreover, women who underwent MRI screening in this study experienced no interval cancers.[3]
Abbreviated breast MRI makes screening available to women of average breast cancer risk.
Women with at least a 20% lifetime risk of developing breast cancer are commonly advised to undergo breast MRI in addition to mammography each year,[4] and many insurance plans cover MRI for these women, but the technology has not traditionally been available to women at lower risk. Abbreviated breast MRI reduces the typically high cost of MRI by using shorter scan and interpretation times than those involved in full MRI protocols. The abbreviated method has been shown to provide a similar level of accuracy,[5] however, making the benefits of this enhanced screening method available to more women.
What does abbreviated breast MRI involve?
Unlike mammography, MRI does not use ionizing radiation. Instead, it uses a powerful magnet, radio waves, and computer to create intricately detailed images. Because of the strong magnetic field created during the procedure, however, MRI is contraindicated for people with embedded shrapnel or particular implanted medical devices.
Additionally, breast MRI uses gadolinium contrast to increase image accuracy. Gadolinium contrast agents pose particular risks for patients with decreased kidney function and can increase the risk of complications if used during pregnancy. Before undergoing breast MRI, talk to your doctor about all potential risks involved with the procedure.
The abbreviated MRI procedure itself is very quick, requiring just 10–15 minutes of scan time. Images are taken both before and after an injection of contrast dye in the arm. The entire appointment takes approximately 45 minutes, and it is best scheduled during the second week of the menstrual cycle for optimal accuracy.[6] No down time is necessary following the exam. Abbreviated breast MRI is not yet covered by insurance. The cost of the procedure at Iowa Radiology is $449, due at the time of service.
At Iowa Radiology, we focus on patients first. Please don't hesitate to ask any question you may have about a procedure at one of our clinics or would like to request extra comfort measures during your exam (such as a blanket or a headset to muffle noise). Use the links below to access our free educational resources for more information about MRI exams and breast cancer screening.
[1] McCarthy, Barlow, et al. "Breast Cancer With a Poor Prognosis Diagnosed After Screening Mammography With Negative Results." JAMA Oncology, vol. 4, no. 7, 2018, pp. 998–1001.
[2] Rafferty, Durand, et al. "Breast Cancer Screening Using Tomosynthesis and Digital Mammography in Dense and Nondense Breasts." JAMA, vol. 315, no. 16, 2016, pp. 1784–86.
[3] Kuhl, Schrading, et al. "Supplemental Breast MR Imaging Screening of Women with Average Risk of Breast Cancer." Radiology, vol. 283, no. 2, 2017, pp. 361–370.
[4] "Breast MRI for Screening." Breastcancer.org, 8 Sept 2016. Accessed 19 Aug 2019.
[5] Mann, van Zelst, et al. "Is Ultrafast or Abbreviated Breast MRI Ready for Prime Time?" Current Breast Cancer Reports, vol. 11, no. 1, 2019, pp. 9–16.
[6] Breast MRI: All About Timing. ITOnline.com. Imaging Technology News, 17 Sept 2009. Accessed 19 Aug 2019.