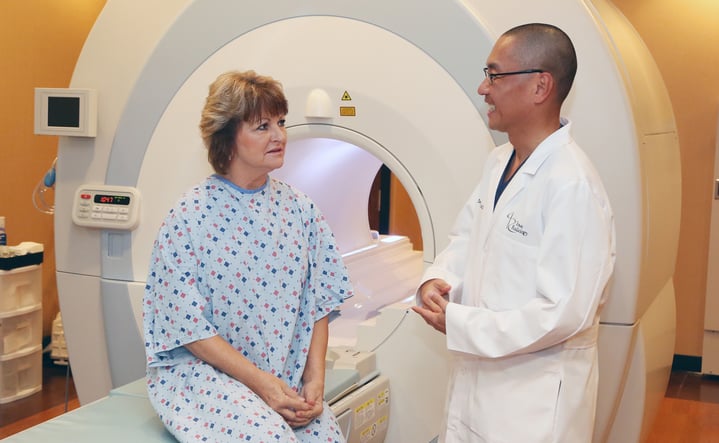 Mammography is the most widely used and commonly recommended technology for breast imaging. The American College of Radiology and the Society for Breast Imaging recommend annual mammography screening for women at average risk of breast cancer beginning at age 40. In some instances, however, MRI or ultrasound imaging is recommended as a supplement to mammography.
Why are other imaging methods recommended?
In some cases, additional screening or follow up is needed with a mammogram. Both ultrasound and MRI are used for these purposes. Which is recommended depends on the reason additional imaging is sought and the needs of the individual patient.
Supplemental Screening
MRI
Women who are at high risk of developing breast cancer are often advised to undergo MRI in addition to mammography for breast cancer screening. The American Cancer Society recommends that women with more than a 20% lifetime risk of breast cancer undergo MRI screening along with annual mammography, usually beginning at age 30.
MRI is used for supplemental screening because it has been proven to be much more sensitive in detecting early-stage breast cancers and cancers in women with dense breasts. [1] In fact, a study published in 2017 found that supplemental MRI screening detected an additional 15.5 cancers per 1,000 women who had normal mammography results. In addition, not one of the more than 2,000 women who participated in the study experienced interval cancers (those discovered following a negative screening result), although mammography is associated with an interval cancer rate of more than 30%. [2]
Ultrasound
While MRI is more sensitive than ultrasound in detecting breast cancer, MRI is not a safe alternative for all patients. Certain implanted devices and imbedded metals contraindicate the use of MRI because of the danger posed by its powerful magnet, and the contrast dye used can create serious complications for patients with kidney disease. When MRI is not available, ultrasound may be used for additional breast cancer screening.
Follow Up After Mammography
When an area of interest is found on a mammogram, the radiologist will typically order additional imaging to get more information. Ultrasound is particularly useful for distinguishing fluid-filled masses, which tend to be benign cysts, from solid or partially solid ones, which may need to be biopsied. Ultrasound is also used to investigate calcifications—calcium deposits that are benign in themselves but can indicate the presence of cancer when they appear in certain patterns.
If mammography and ultrasound don't yield clear enough images for your radiologist to determine whether a biopsy is needed, then MRI can provide a more detailed look. MRI is also used to guide biopsies, to get more information about cancer that has already been identified, and to look for additional tumors in the breasts and lymph nodes.
Abbreviated Breast MRI
Abbreviated breast MRI is a new screening tool that provides enhanced imaging for women with dense breasts and/or less than a 20% lifetime risk of breast cancer. (You can calculate your lifetime risk here). Dense breast tissue is associated with increased breast cancer risk and also makes it more difficult to identify cancer using mammography. Breast tomosynthesis, more commonly known as 3-D mammography, has proven to be a better tool than traditional mammography for identifying cancers in women with dense breasts. [3] MRI, however, is able to identify more cancers than even 3-D mammography. This new abbreviated method makes MRI available to more women by reducing costs and screening time.
Iowa Radiology is an American College of Radiology Breast Imaging Center of Excellence, providing state-of-the-art breast imaging, including breast tomosynthesis, ultrasound, high-risk and abbreviated MRI, and imaging-biopsy. For more information about breast cancer screening and follow up, browse our blog or click on the resources below.
Sources
1. Bakker, MF, de Lange SV, Ruud MP, et al. Supplemental MRI Screening for Women with Extremely Dense Breast Tissue. N Engl J Med, 2019;381(22), 2091–2102.http://dx.doi.org/10.1056/NEJMoa1903986. Accessed June 5, 2020.
2. Kuhl CK, Strobel K, Bieling H, et al. Supplemental Breast MR Imaging Screening of Women with Average Risk of Breast Cancer. Radiology, 2017;283(2), 361–370. http://dx.doi.org/10.1148/radiol.2016161444. Accessed June 5, 2020.
3. Rafferty EA, Durand MA, Conant EF, et al. Breast Cancer Screening Using Tomosynthesis and Digital Mammography in Dense and Nondense Breasts. JAMA. 2016;315(16):1784-1786. http://dx.doi.org/10.1001/jama.2016.1708. Accessed June 5, 2020.