mri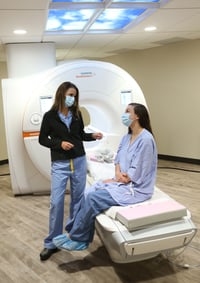 While mammography is the only breast cancer screening tool proven to reduce deaths through early detection, other methods of imaging are useful when mammography alone doesn't provide the information needed. MRI is a valuable modality for getting a closer look at confirmed or suspected breast cancer as well as providing additional protection for women at high risk.
When is MRI used for breast imaging?
Additional Breast Cancer Screening for Women at High Risk
Often, women who are at high risk of developing breast cancer are referred for additional screening using MRI. The American Cancer Society recommends a combination of mammography and MRI for women whose lifetime risk of breast cancer is greater than 20% and recommends that women whose lifetime risk is at least 15% to discuss the possibility of MRI screening with their doctors.
MRI is useful for women with elevated breast cancer risk because it's capable of detecting abnormalities that can easily be missed in mammography; however, because MRI can also miss some cancers that do appear on a mammogram, MRI is typically not recommended on its own for breast cancer screening. Also, because MRI identifies more abnormalities than turn out not to be cancer, which can lead to unnecessary follow-up procedures, MRI screening is not recommended for all women.
Investigating Areas of Interest
MRI is capable of providing more detailed images than mammography or ultrasound. If these modalities fail to provide adequate images for your doctor to determine whether a biopsy should be ordered, then MRI may be used to get a better look.
Imaging-Guided Biopsy
If possible cancer is detected, then a biopsy is necessary to determine whether the abnormality is malignant or benign. In cases where MRI is necessary for clear visualization of an area of interest, it can also be used to help ensure the appropriate area is sampled during biopsy.
Assessing Diagnosed Breast Cancer and Identifying Additional Tumors
After a breast cancer diagnosis, MRI is often used to assess the size and extent of the cancer as well as check for other tumors in the same breast and in the opposite breast. It can also help identify potential spread to nearby lymph nodes.
Monitoring Effect of Chemotherapy
Often, chemotherapy is used to shrink a tumor prior to surgical removal. MRI is commonly used to measure the success of this strategy and determine the current extent and location of the tumor before surgery is performed.
Monitoring Lumpectomy Site After Surgery
It can be difficult to differentiate normal scarring after a lumpectomy from a recurrence of breast cancer using mammography alone. If a lumpectomy scar shows changes in mammography images, MRI can be used to assess whether these changes are normal or signs of cancer regrowth.
Breast Implant Imaging
If your doctor suspects that a breast implant has ruptured, MRI is the best tool for making this determination.
Iowa Radiology is an ACR-accredited Breast Imaging Center of Excellence offering a wide range of women's imaging services. We provide 3-D mammography, breast ultrasound, breast MRI, and imaging-guided biopsy to aid in breast cancer detection and treatment. We strive to continually deliver exceptional patient care and are available to answer any questions or address any concerns you may have about a procedure at our clinics.To learn more about mammography and what to expect during your next appointment, download our free ebook.
Sources
"Breast Cancer Screening." Radiologyinfo.org. Radiological Society of North America, 20 April 2018. Accessed 1 Aug 2018.
"Breast MRI for Screening." Breastcancer.org, 8 Sept 2016. Accessed 1 Aug 2018.
"Magnetic Resonance Imaging (MRI) - Breast." Radiologyinfo.org. Radiological Society of North America, 15 Feb 2018. Accessed 1 Aug 2018.
The information contained in the Iowa Radiology website is presented as public service information only. It is not intended to be nor is it a substitute for professional medical advice.You should always seek the advice of your physician or other qualified healthcare provider if you think you may have a medical problem before starting any new treatment, or if you have any questions regarding your medical condition.
Iowa Radiology occasionally supplies links to other web sites as a service to its readers and is not in any way responsible for information provided by other organizations.