Imaging tests like X-rays, CT scans, ultrasounds, and MRIs are extremely useful and advanced methods of detecting and investigating abnormalities deep inside the body. Sometimes, however, it's impossible to determine from these imaging tests alone whether a mass or abnormal area is harmless (benign) or potentially harmful (like cancer). For example, if your care provider has detected an abnormality in your breast using ultrasound, mammography, or clinical examination, it may be a harmless condition like a fibroadenoma, or it may be something more serious.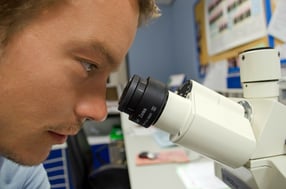 In this case, the only way to know for sure is to examine a sample of the cells or tissue in a lab. A biopsy is a procedure that removes a piece of tissue or a sample of cells from your body so that it can be analyzed. This can be done surgically by making an incision in the skin and removing a part of the suspicious area. Often, however, effective and less invasive non-surgical options for collecting a sample are available.
Types of Non-Surgical Biopsies
During a non-surgical needle biopsy, a doctor uses a special needle to extract cells from a suspicious mass or area.
In fine needle aspiration biopsy (FNAB), a very thin needle is attached to a syringe to withdraw (aspirate) a small amount of tissue or fluid from the suspicious area. The needle used for FNAB is thinner than the ones used for blood tests, and a local anesthetic may be applied to numb the surrounding area to reduce discomfort. Once the needle is in place, fluid or tissue is withdrawn.
If clear fluid is withdrawn, the lump is more likely a benign cyst (not cancer). Bloody or cloudy fluid can mean either a benign cyst or, less often, cancer. If the lump is solid, small pieces of tissue are drawn out.
A fine needle aspiration biopsy can sometimes miss cancer if the needle does not get a tissue sample from the area of cancer cells. If it doesn't give a clear diagnosis, or if your doctor still has concerns, a second biopsy or a different type of biopsy will be done.
In core needle biopsy (CNB), a slightly larger, hollow needle is inserted and used to withdraw tiny cylinders of tissue from the abnormal area in the breast. Since the needle is larger, a local anesthetic is usually used to numb the area.
A CNB takes longer than an FNAB because more tissue is taken to be checked. A CNB can cause some bruising but usually does not leave scars inside or outside the breast.[1]
How Imaging Technology is Used in Biopsies
Using imaging technology (X-ray, CT, MRI, or ultrasound), the doctor can pinpoint the exact location of the target cells and precisely guide the needle.
If the area to be biopsied can be felt, the doctor locates the lump or suspicious area and guides the needle there by hand or visually.
If the lump can't be felt, the doctor might use ultrasound to watch the needle on a screen and direct its movement toward and into the mass. (This is called an ultrasound-guided biopsy.)
In a stereotactic needle biopsy, computers map the exact location of the mass using mammograms taken from 2 angles. This helps the doctor navigate to exactly the right spot to place the needle tip for extraction. This is often done to biopsy suspicious microcalcifications (tiny calcium deposits) or when an abnormality cannot be seen on ultrasound.
Magnetic resonance imaging (MRI) guided biopsy uses computerized MRI technology to find the area of concern, plot its location, and help target the lesion. This is helpful for women with a suspicious area that can only be found by MRI.
After the procedure, samples are sent to an independent lab for analysis. You will be contacted by our radiologist within 48 hours with your results. Your doctor will also receive a report.
The choice of which type of biopsy is right for your situation depends on many variables: how suspicious the tumor or abnormality looks, how big it is, its location, how many areas of concern there are, other medical problems you might have, and other personal factors. You should talk with your doctor about the potential risks and benefits of each procedure.
At Des Moines-based Iowa Radiology's breast imaging center, we offer different types of non-surgical biopsies, including ultrasound-guided, stereotactic, and MRI. These procedures are minimally invasive, non-scarring and non-surgical. You can return to normal activities the following day, although the biopsy site will be tender for a few days, and bruising may occur. Talk to your doctor about what type of biopsy is best for you. If you have questions after a procedure has been ordered, feel free to contact us with any questions.
To learn more about MRIs, download our free ebook.
The information contained in the Iowa Radiology website is presented as public service information only. It is not intended to be nor is it a substitute for professional medical advice.You should always seek the advice of your physician or other qualified healthcare provider if you think you may have a medical problem before starting any new treatment, or if you have any questions regarding your medical condition.
Iowa Radiology occasionally supplies links to other web sites as a service to its readers and is not in any way responsible for information provided by other organizations.
Sources
[1]http://www.cancer.org/treatment/understandingyourdiagnosis/examsandtestdescriptions/forwomenfacingabreastbiopsy/breast-biopsy-biopsy-types