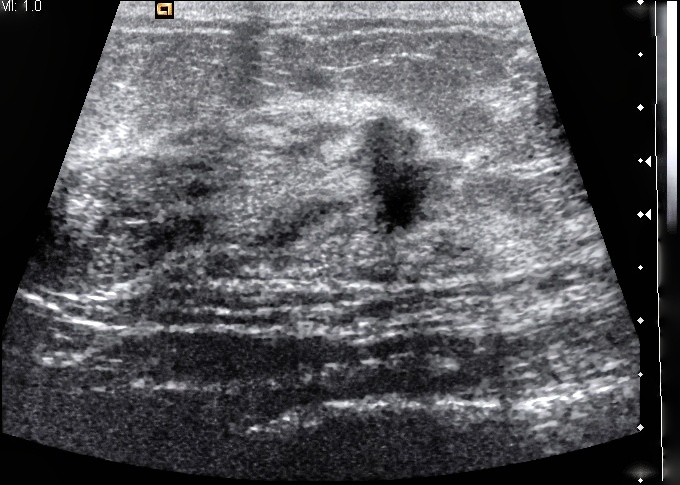 Mammography is the only breast cancer screening tool that has been proven to reduce deaths through early detection. However, other imaging modalities can be valuable when a supplement or alternative to mammography is needed. Women who are unable to undergo mammography or whose mammography images provide insufficient information are often referred for breast ultrasound.
When is ultrasound used for breast imaging?
Investigating Identified Areas of Interest
The most common use of breast ultrasound is to gain additional information about areas of concern identified on a mammogram or through a physical exam. Ultrasound is a useful tool for determining whether an abnormal area is solid, fluid filled, or a combination of the two, which can provide insight into whether it's more likely to be cancer or a benign feature.
Screening for Women Who Cannot Undergo Mammography
For some women, exposure to X-rays is contraindicated. The most common reason for this is pregnancy. In these cases, ultrasound is sometimes used for breast cancer screening. Ultrasound, however, is not the first choice for breast cancer screening because it can miss early signs such as microcalcifications, and obesity or very large breasts can make ultrasound less effective.
Supplemental Screening for Women with Dense Breast Tissue
Dense breast tissue can make irregularities difficult to spot on a mammogram. Particularly if you are at a higher than average risk of breast cancer, your doctor may recommend additional screening with ultrasound to better identify potentially problematic areas. Be aware, however, that breast ultrasound is associated with a high level of false positive results—identified abnormalities that turn out to be benign.
Supplemental Screening for Women at High Risk Who Can't Undergo MRI
Women who are at high risk of developing breast cancer are most often referred for additional screening using MRI to increase the chances of catching developing cancer early. However, when MRI is contraindicated, ultrasound provides a valuable alternative for providing additional information.
Imaging-Guided Biopsy
When an abnormality is identified as potentially malignant, a biopsy is needed to either confirm or rule out a cancer diagnosis. This involves taking a sample of the suspicious tissue so it can be closely examined and correctly identified in a lab. The real-time imaging that ultrasound provides is useful in helping to ensure that the appropriate area is sampled to allow for an accurate result.
Iowa Radiology provides a full range of women's imaging services, including 3-D mammography, breast ultrasound, breast MRI, and imaging-guided biopsy. We are an ACR-accredited Breast Imaging Center of Excellence and pride ourselves on exceptional patient care. We are available to answer any questions or address any concerns you may have about a procedure at one of our clinics. To learn more about mammography and what to expect during your next appointment, download our free ebook.
Sources
"Breast Ultrasound." Johns Hopskins Medicine. The Johns Hopkins University, The Johns Hopkins Hospital, and Johns Hopkins Health System, 20 March 2015. Accessed 1 Aug 2018.
"Magnetic Resonance Imaging (MRI) - Breast." Radiologyinfo.org. American College of Radiology, 15 Feb 2018. Accessed 1 Aug 2018.
"Ultrasound—Breast." Radiologyinfo.org. American College of Radiology, 11 April 2018. Accessed 1 Aug 2018.
The information contained in the Iowa Radiology website is presented as public service information only. It is not intended to be nor is it a substitute for professional medical advice. You should always seek the advice of your physician or other qualified healthcare provider if you think you may have a medical problem before starting any new treatment, or if you have any questions regarding your medical condition.
Iowa Radiology occasionally supplies links to other web sites as a service to its readers and is not in any way responsible for information provided by other organizations.