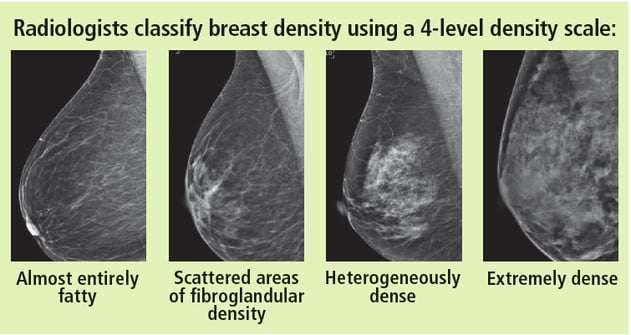 In April of last year, Iowa passed its breast density reporting law. As a result, beginning this year, all mammography reports in Iowa are required to include information about the patient's breast density and, for patients with dense breasts, information about how breast density relates to cancer risk and mammography screening. Here is what you should know about the information you receive with this year's mammogram results.
What does my density designation mean?
Your mammography report will include one of the following four designations to indicate the density of your breasts:
Almost entirely fatty
Scattered areas of fibroglandular density
Heterogeneously dense
Extremely dense
Breasts are made up of fat, fibrous connective tissue, milk-producing glands, and milk ducts. Breasts that are dense have a larger proportion of fibrous and glandular tissue and a smaller proportion of fat. Dense breast tissue is not abnormal or a health problem in itself. In the U.S., approximately
10% of women have almost entirely fatty breasts
40% have scattered areas of fibroglandular density
40% are classified as heterogeneously dense, and
10% have extremely dense breasts.

[1]
Why is it important to know my breast density?
Dense breast tissue is associated with a slightly increased risk of breast cancer, but the reason for this is unknown.[2] This is complicated by the fact that fibrous and glandular breast tissue appears white on a mammogram, as do both cancerous and benign tumors. This makes it harder to detect possible breast cancers with mammography in women with dense breasts. Understanding these factors relating to breast density will help you and your doctor make better informed decisions about the breast cancer screening regimen that is best for you.
How should breast density information affect mammography screening?
Although density makes it more difficult to detect cancer with a mammogram, mammography remains an essential part of breast cancer screening for women with dense breasts. Many cancers can be detected using mammography in women with dense breast tissue, and modern mammogram technology is more effective than ever. A study of more than 450,000 mammograms published in JAMA showed that 3-D mammography increases cancer detection while reducing recall rates, with the largest detection gains seen in women with heterogeneously dense breasts.[3]
Your doctor may recommend additional screening methods, such as breast ultrasound and/or MRI, to enhance cancer detection capabilities. While these methods can help locate cancers not seen on mammography, they can also show more findings that are not cancer, which may lead to unnecessary follow-up procedures. Additional imaging may or may not be covered by your health insurance. Discuss your mammography report fully with your doctor, making sure that all of your questions are answered, and decide together on a screening regimen that best fits your circumstances.
It's important to remember that although women with dense breast tissue face an increased risk of breast cancer, this is only one risk factor among many, including lifestyle and genetic factors. Be sure to consider all of your risk factors when deciding on a breast cancer screening program with your doctor.
Iowa Radiology is an American College of Radiology-accreditedBreast Imaging Center of Excellence, providing 3-D mammography, breast ultrasound, breast MRI, and imaging-guided biopsy. Feel free to reach out to us with questions about breast density and cancer screening and to access any of the mammography and breast cancer-related resources below. To schedule your annual 3-D mammogram, click here.
[1] "Breast Density—Breast Cancer Screening." American College of Radiology & Society for Breast Imaging.
[2] "Breast Density and Your Mammogram Report." Cancer.org. American Cancer Society, 9 Oct 2017. Accessed 8 Dec 2017.
[3] Rafferty, et al. "Breast Cancer Screening Using Tomosynthesis and Digital Mammography in Dense and Nondense Breasts." JAMA. American Medical Association, 26 April 2016. Accessed 8 Dec 2017.
Image source American College of Radiology
The information contained in the Iowa Radiology website is presented as public service information only. It is not intended to be nor is it a substitute for professional medical advice. You should always seek the advice of your physician or other qualified healthcare provider if you think you may have a medical problem before starting any new treatment, or if you have any questions regarding your medical condition.
Iowa Radiology occasionally supplies links to other web sites as a service to its readers and is not in any way responsible for information provided by other organizations.