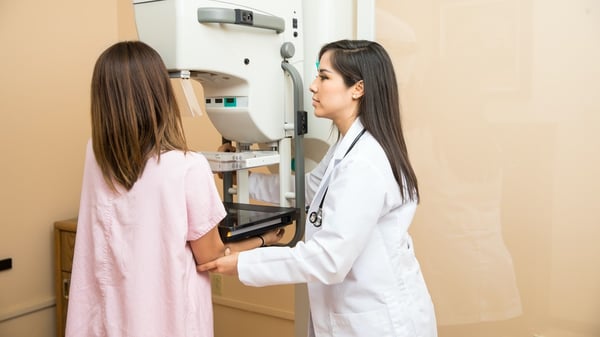 Annual mammography screening has been on the forefront of the fight against breast cancer for decades. Although mammography began to gain acceptance as a useful diagnostic tool as early as the 1950s[1], the technology has evolved considerably since that time to deliver considerably more reliable diagnostic information. Advances in film were followed by the advent of digital imaging and, later, by breast tomosynthesis, more commonly known as 3-D mammography.
Advantages of 3-D Mammography
Unlike traditional (2-D) mammography, which uses two flat images of each breast (one taken vertically and the other horizontally), tomosynthesis uses multiple images to create an enhanced picture of the breast. The X-ray machine moves in an arc over the breast, taking images from many different angles. The individual pictures are combined to create a three-dimensional view of the breast, which the radiologist can examine a millimeter at a time, making fine details easier to identify and inspect.
The use of tomosynthesis has been shown to increase the accuracy of screening mammograms. A study published in the Journal of the American Medical Association found that the addition of tomosynthesis to 2-D digital mammography resulted in both the detection of more breast cancers and a reduction in false positive results. In the study,
41% more invasive cancers were detected, and
15% fewer patients were called back for further imaging or biopsy

[2]
These findings are especially important to keep in mind in light of recent arguments in favor of reduced mammography screening. One of the main reasons cited is the harm done by false positive results in terms of inducing stress and anxiety and by triggering additional procedures, such as further imaging and/or biopsy, that return normal results. When considering potential harms such as these, it is important to bear in mind that they are progressively reduced with the steady advance of mammography screening technology, as evidenced in the JAMA study.
The Next Generation of 3-D Mammography
Tomosynthesis is used in conjunction with traditional 2-D mammography views. A new technology called "C-View" (composite view) allows all of these images to be taken at once, reducing the radiation dose delivered by 40% and the length of time the breast must be compressed to just under 4 seconds. In addition to the advantages of 3-D mammography, the 2-dimensional C-View images have been found to be superior to traditional 2-D mammography images, providing greater contrast and better visibility in some cases.[3]
Iowa Radiology is dedicated to providing the safest and most accurate imaging available, and we're proud to offer C-View low-dose breast tomosynthesis at all mammogaphy locations: Clive, Ankeny, and downtown Des Moines.
If you have questions about mammography, download our free infographic that explains the importance of mammograms and how they can benefit you.
Sources
[1] Bassett and Gold. "The Evolution of Mammography." American Journal of Roentgenology. American Roentgen Ray Society, March 1988. Web. 17 Feb 2016.
[2] Friedewald, et al. "Breast Cancer Screening Using Tomosynthesis in Combination With Digital Mammography." JAMA. 311.24 (2014): 2499-2507.
[3] "Latest Breast Cancer Screening Technology - 3D Mammography in Combination with C View." Smart Teleradiology. Heidelberg Medical, 25 Jan 2016. Web. 17 Feb 2016.