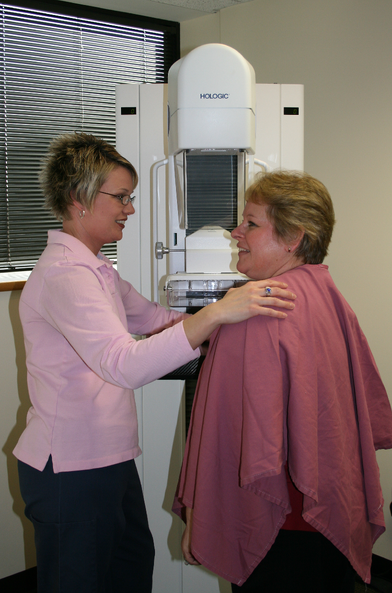 The American Cancer Society's (ACS) recent release of yet another set of mammography screening guidelines is adding to the confusion over just when and how often women should undergo mammography. Despite this move by the ACS, Iowa Radiology, along with the American College of Radiology (ACR) and the Society of Breast Imaging (SBI), remain firm in our recommendation of annual screening mammography beginning at age 40.
Earlier this year, the United States Preventive Services Task Force (USPSTF) released new guidelines that increased the recommended age for beginning mammography screening to 50 and decreased the frequency to biannual exams. At that time, Iowa Radiology stated its adherence to the recommendation of the majority of U.S. health care organizations that women at average risk for breast cancer receive annual mammograms beginning at age 40.
Now the American Cancer Society has released its new guidelines, recommending that women receive annual screening mammograms from age 45-54 and then transition to biannual screening. While this represents a less drastic change than that proposed by the USPSTF, we hold to the view that such a move is detrimental to the health of American women.
It has been established that beginning mammography at age 40 saves the most lives. 1 in 6 breast cancers occur in women aged 40-49.[1] Even with advances in treatment, early detection remains critical to improving survival rates. According to Dr. Debra Monticciolo, chair of the ACR Breast Imaging commission, "Moving away from annual screening of women ages 40 and older puts women's lives at risk."[2]
False Positives
One of the arguments in favor of reducing mammography screening is the potential harm of false-positive results. It is true that receiving a callback after a mammogram can be an anxiety-provoking event. However, this risk pales in comparison to that of missing the opportunity to treat invasive cancer at the earliest possible stage. It is worth noting that for each 1000 mammograms performed in the U.S., 100 women will be called back for additional non-invasive imaging; only 19 of those will undergo minimally-invasive needle biopsy; and 5 will be diagnosed with cancer.[3] In fact, research shows that even women who receive false-positive results continue to believe that annual screening is beneficial for them and endorse the recommendation.[4]
3-D Mammography
Advances in imaging technology only stand to improve these numbers. A study published last year in the Journal of the American Medical Association found that the addition of breast tomosynthesis (also known as 3-D mammography) to digital mammography resulted in both fewer callbacks and a higher rate of breast cancer detection. The use of 3-D mammography accounted for a 29% increase in cancer detection with detection of invasive cancers increasing by an astounding 41%. At the same time, patients examined using tomosynthesis experienced a 15% lower callback rate.[5]
Like any test, mammography has its limitations. However, it continues to be our single most powerful tool for early breast cancer detection in a large population. The benefits of increased early detection far outweigh any risks associated with the procedure, and they do so by a wider margin as technology advances. For these reasons, we continue to strongly recommend annual screening mammograms for all women beginning at age 40.
Do you want to learn more about mammograms? Download our free eBook, where we discuss low-dose 3-D mammography, callbacks, what to expect, and more.
[1] Monsees & Monticciolo. Letter to National Committee for Quality Assurance. American College of Radiology & Society for Breast Imaging, 23 March 2013. Web. 21 Oct 2015.
[2] "ACR and SBI Continue to Recommend Regular Mammography Starting at Age 40." SBIonline.org. Society of Breast Imaging. Web. 20 Oct 2015.
[3] "Mammography Saves Lives" infographic. ACR.org. American College of Radiology, n.d. Web. 20 Oct 2015.
[4] "ACR and SBI Continue to Recommend Regular Mammography Starting at Age 40." SBIonline.org. Society of Breast Imaging. Web. 20 Oct 2015.
[5] Friedewald, et al. "Breast Cancer Screening Using Tomosynthesis in Combination With Digital Mammography." JAMA. 311.24 (2014): 2499-2507.