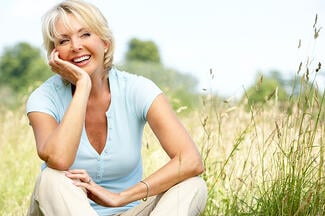 Iowa Radiology is committed to providing our patients with the safest and most advanced imaging technology available. Now, we are pleased to add C-View, a new, low-dose breast tomosynthesis technology, to our mammography services.
What is breast tomosynthesis?
Standard mammography relies upon two X-ray images of the breast to detect possible areas of concern. Tomosynthesis, on the other hand, utilizes many X-ray images taken from a range of angles to create a three-dimensional image of the breast that can be closely examined a millimeter at a time. This allows radiologists to see more detail and get a much clearer picture of structures within the breast tissue. The appearance of linear structures, radiating lines, and bright spots, which can be indicative of particular breast conditions, is enhanced with tomosynthesis. As a result, practitioners are able to make fewer callbacks for diagnostic procedures while detecting invasive cancers at a higher rate compared with digital mammography alone. This finding is supported by a study published earlier this year in the Journal of the American Medical Association.
The addition of tomosynthesis to digital mammography can increase detection of invasive cancers by 40% over 2-D digital mammography alone.

[1]

Adding tomosynthesis to digital mammography can reduce callback rates by 20-40%.

[2]

Tomosynthesis allows for more accurate diagnosis of masses, distortions, and variations in density than standard follow-up mammograms.

[3]
What is C-View or Low Dose 3D Mammography?
C-View is a new breast tomosynthesis technology that allows for quicker procedure times and lower radiation doses than previously possible. It allows practitioners to reconstruct the two-dimensional images taken during tomosynthesis rather than having to take 2-D images in addition to the 3-D mammogram. This lowers both the amount of time a patient must remain still with her breast compressed and the radiation dose needed for the procedure. As a result, C-View reduces the necessary breast compression time from 10 seconds to 4 seconds and the cuts radiation dose delivered during the exam by 40%.
Iowa Radiology strives to bring you the highest level of care possible with superior training, state-of-the-art technology, and compassionate customer care. Contact us to schedule your next screening mammogram, and subscribe to our blog for ongoing updates.
The information contained in the Iowa Radiology website is presented as public service information only. It is not intended to be nor is it a substitute for professional medical advice. You should always seek the advice of your physician or other qualified healthcare provider if you think you may have a medical problem before starting any new treatment, or if you have any questions regarding your medical condition.
Iowa Radiology occasionally supplies links to other web sites as a service to its readers and is not in any way responsible for information provided by other organizations.
Resources
[1] Skaane P, Bandos A, Gullien R, et. al. Comparison of Digital Mammography Alone and Digital Mammography Plus Tomosynthesis in a Population-based Screening Program. Radiology. 2013 Apr; 267(1):47-56. Epub 2013 Jan 7.
[2] Philpotts L. et al. Initial Experience With Digital Breast Tomosynthesis in Screening Mammography. Presented at the ARRS 2012, Scientific Session 22 - Breast Imaging: Screening/Emerging Technologies.
[3] Zuley M, Bandos A, Ganott M, et. al. Digital Breast Tomosynthesis versus Supplemental Diagnostic Mammographic Views for Evaluation of Noncalcified Breast Lesions. Radiology. 2013 Jan; 266(1):89-95. Epub 2012 Nov 9.