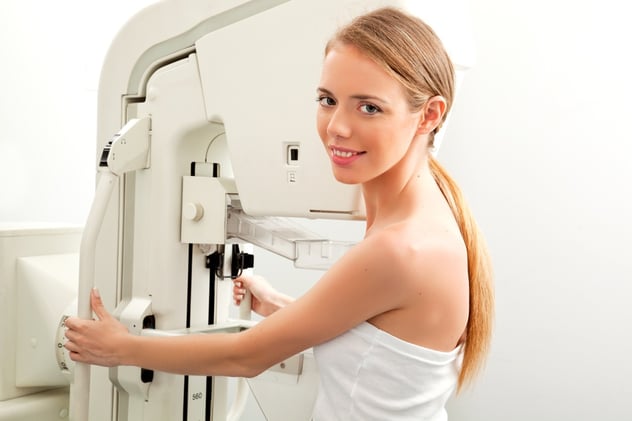 Breast cancer remains the most common cancer among women in the U.S.; the average risk of a woman developing breast cancer in her lifetime is 1 in 8. For some women with additional risk factors, including a family or personal history of breast cancer or previous radiation therapy to the chest, the odds are even higher.
Mammograms are important tools in the early discovery of breast cancer, which greatly improves survival rates. Recently, there's been some confusing media attention about whether women should begin having annual mammography screening at age 40, age 45, or age 50. Iowa Radiology joins in the recommendation of the American College of Radiology, the Society of Breast Imaging, the American College of Obstetricians and Gynecologists, and the American College of Family Physicians that women begin having annual mammograms at age 40. Screening mammograms are safe, fast, and currently 100% covered by insurance as mandated by the Affordable Health Care Act. The new recommendations, however, could impact insurance coverage for this potentially lifesaving tool – saving insurers money, but potentially costing lives.
Why is there a discrepancy in the recommendations?
The good news is that since 2000, the rate of breast cancer incidence has been decreasing. Even more encouraging, death rates from breast cancer have been declining steadily since about 1989, falling an impressive 35%. These decreases are believed to be the result of earlier detection through screening and increased awareness, as well as improved treatment, especially in women younger than 50.
The bad news is that the success of early detection and treatment has tempered the urgency of making sure that younger women monitor their breast health, evaluate their breast cancer risk, and undergo routine mammograms to screen for any abnormalities. Even if abnormalities are observed on a mammogram that are not cancerous, a woman and her doctor will have a better idea of what to watch for in the future decades and how to more accurately manage her risk. Knowing what each individual's breasts look like and regularly monitoring changes and calcifications are important components of discerning changes that may be indicative of cancer.
Although some groups have suggested that annual screening beginning at age 40 is overly vigilant, breast cancer incidence increases substantially around age 40: the incidence rate in women ages 40-44 is more than twice that of women 35-39. Women in the 45-49 age group have three times the incidence rate of the 35-39 year old group. Annual screening mammography starting at age 40 results in the greatest mortality reduction, the most lives saved, and the most life years gained than less frequent screening starting at a later age.
Early detection means better chances of survival and less invasive treatment.
Mammography has proven to be an effective method of finding cancer at earlier stages, and women with tumors found through mammography screening tend to have better outcomes even than women with similarly-sized tumors found in other ways. Breast cancers that are discovered through the presence of symptoms are generally larger and have more likely spread beyond the breast prior to detection than cancers found through screening mammography.
The size and extent of cancer at the time of detection are among the most important factors in determining a breast cancer patient's prognosis and course of treatment. Those whose breast cancer is diagnosed early tend to receive much less invasive and less debilitating treatments than later-stage patients: breast-conserving surgery (BCS) and radiation therapy (RT) versus mastectomy, RT, and chemotherapy.
Finally, a recent study published in Cancer showed that over 70% of the women who died of breast cancer were not undergoing regular screening, and the median age at diagnosis of fatal cancer was 49.
3-D mammograms are more effective than ever.
3-D mammography, or breast tomosynthesis, is a process that incorporates many X-ray images taken from a range of angles to create a three-dimensional image of the breast that can be closely examined a millimeter at a time. 3-D mammography allows for more accurate diagnosis of masses, distortions, and variations in density than standard 2-D mammograms. Using breast tomosynthesis, practitioners are able to make 20-40% fewer callbacks for diagnostic procedures while detecting invasive cancers at an approximately 41% higher rate compared with digital mammography alone. The rate of false positives decreases by 15% with the addition of tomosynthesis.
Mammograms are just part of your overall preventive health care plan, but they are an important part. Iowa Radiology supports yearly diagnostic examination for all women over 40 as part of a comprehensive risk management plan and encourages you to support your right to insurance coverage for this lifesaving preventive screening.
Talk with us at Iowa Radiology about determining what type of mammogram you should get and when you should get it. We'll work with your provider to help you evaluate your overall risk and lifetime plan of trventive care, and we'll make sure you understand your insurance coverage before your procedure. Contact us to schedule an appointment or consultation today.
To learn more, check out the facts and resources at mammographysaveslives.org and endtheconfusion.org, and click below to download our free eBook. It's full of information about low-dose 3-D mammography, breast cancer risk evaluation, what to expect before, during, and after your mammogram, and more.
The information contained in the Iowa Radiology website is presented as public service information only. It is not intended to be nor is it a substitute for professional medical advice. You should always seek the advice of your physician or other qualified healthcare provider if you think you may have a medical problem before starting any new treatment, or if you have any questions regarding your medical condition. Iowa Radiology occasionally supplies links to other web sites as a service to its readers and is not in any way responsible for information provided by other organizations.
Sources
"Breast cancer: prevention and control." World Health Organization: Cancer. WHO, 2015. Web. 6 Apr 2015.
Friedewald, Sarah M., MD, et al. "Breast Cancer Screening Using Tomosynthesis in Combination With Digital Mammography." JAMA 311, 24 (2014): 2499-2507. Web. 7 Apr 2015.
Madden, Kate Yee. "JAMA: Adding Tomo to Mammography Finds More Cancer." AuntMinnie.com. AuntMinnie.com, 24 Jun 2014. Web. 7 Apr 2015.
"The importance of finding breast cancer early." American Cancer Society. American Cancer Society, Inc., 2015. Web. 6 Apr 2015.
"Understanding Risk." Susan G. Koman. Susan G. Komen, 2015. Web. 6 Apr 2015.
"What are the key statistics about breast cancer?" American Cancer Society. American Cancer Society, Inc., 2015. Web. 6 Apr 2015.