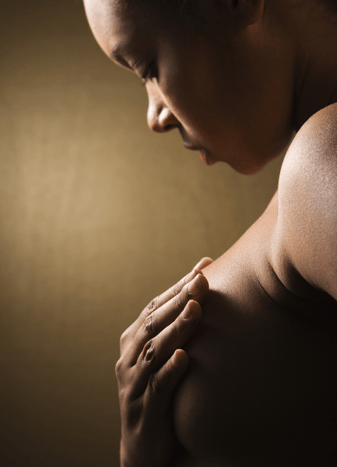 Maybe it was in the shower. Or while you were dressing. Maybe it was at the doctor's office. Wherever you were when you found the lump in your breast, you had the same fear: is it breast cancer?
The good news is that it's probably not. Most breast changes, including lumps, aren't cancerous. It's important to see a doctor or healthcare provider as soon as possible, but there are numerous other issues that can explain your breast changes. Some of the most common are fibrosis, cysts, and non-cancerous ("benign") tumors.[1]
Fibrosis and Cysts
Fibrosis describes firmness or thickening of the connective breast tissues. This is natural, common, and usually caused by hormonal changes related to your menstrual cycle.
Cysts are fluid-filled sacs that form within the breasts. They are generally harmless but may be painful. They can feel lumpy and may cause nipple discharge. A cyst contains only fluid; if it appears to have solid parts, more tests may be needed.
It's difficult to determine whether a lump is actually just a harmless cyst, however. A physical exam alone is inadequate. Some of these lumps can be examined with mammograms (breast X-rays); the size, shape, and edges (margins) of each lump can help the doctor figure out whether it might be cancerous. Other lumps may need a biopsy, in which fluid and/or tissue is removed from the area with a thin, hollow needle and examined under a microscope.
Lumps and areas of thickening caused by fibrosis and cysts are almost always harmless. Although these fibrocystic changes to the breast tissue used to be called "fibrocystic breast disease," they are very common and typically do not indicate health problems. Your symptoms may get worse just before your menstrual period starts. Doctors can prescribe medicines that may help reduce or relieve symptoms if the changes are painful or unpleasant, but further treatment is rarely needed. If you have painful cysts, your provider can drain them by extracting the fluid with a needle, but they may refill with time.
Benign Breast Tumors
Benign tumors are non-cancerous areas where breast cells have grown abnormally and rapidly, often forming a lump. Unlike cysts, which are filled with fluid, tumors are solid. These lumps or masses are not dangerous or cancerous and do not spread from the breast to other organs.
If a benign tumor is large, it may change the breast's size and shape. If it's growing into the tissue of the milk ducts, it may cause an abnormal discharge from the nipple. A benign tumor may be painful, uncomfortable, or relatively unnoticeable. Depending on the type, size, number, and effects of these types of tumors, doctors may or may not recommend surgery to remove them.
Some benign breast tumor types, such as papillomas and atypical hyperplasia, correspond to a higher risk of developing breast cancer. If you are diagnosed with one of these conditions, talk with your provider about preventive measures you can take to reduce your risk of developing breast cancer.
If You Discover Abnormal Breast Changes...
Your doctor will recommend testing and radiologic examination to determine the nature of your breast changes. These procedures may include ultrasound, traditional or 3-D mammogram, or breast MRI. Your doctor may also recommend you undergo a biopsy.
Iowa Radiology understands that finding a lump or breast abnormality can be frightening. We're here to help you through every step of the diagnostic process. Call us at any of our convenient locations in Ankeny, Clive, or downtown Des Moines or click HERE for contact information.
To download our FREE eBook with everything you need to know about your mammogram, click the link below!
The information contained in the Iowa Radiology website is presented as public service information only. It is not intended to be nor is it a substitute for professional medical advice.You should always seek the advice of your physician or other qualified healthcare provider if you think you may have a medical problem before starting any new treatment, or if you have any questions regarding your medical condition.
Iowa Radiology occasionally supplies links to other web sites as a service to its readers and is not in any way responsible for information provided by other organizations.
Sources
[1]http://www.cancer.org/treatment/understandingyourdiagnosis/examsandtestdescriptions/forwomenfacingabreastbiopsy/breast-biopsy-benign-breast-conditions