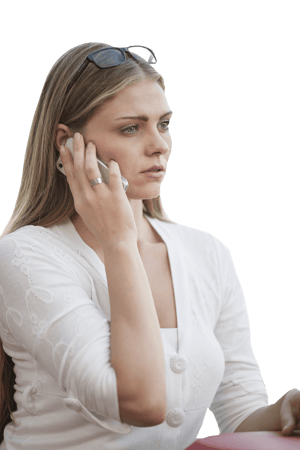 You followed your doctor's advice and got your annual screening mammogram. You left the imaging clinic feeling good about keeping on top of your preventive health care. A couple of days later, however, you were surprised to get a call from your doctor's office asking you to come in for follow up. You had assumed you'd get a letter a week later saying everything is fine, but now, you are worried about the possibility of breast cancer. What should you expect?
Mammogram callbacks are common.
The first thing to understand is that getting called back for follow up after your mammogram is not reason for alarm. As useful as screening mammography is for detecting breast cancer early (when it's most treatable) and ultimately saving lives, it does not definitively identify cancer. The purpose of a screening mammogram is to identify potential areas of concern for further investigation. Mammography follow up is where this investigation happens.
Most often, mammography follow-up does not show cancer.
According to the American Cancer Society, about half of women who get annual screening mammograms will be called back for follow-up over a ten-year period.[1] However, fewer than one in ten of those women will be found to have breast cancer.[2]
False-positive screening mammograms (those that show suspicious areas that turn out not to be cancer) are more common when the radiologist lacks previous images for comparison; for this reason, it's important to provide access to your previous mammography images whenever you visit a new imaging center for your mammogram. False positives are also much more common among women aged 40–49 than among older women.[3]
Sometimes, women are called back after a screening mammogram simply because the images aren't clear enough or some areas of the breast aren't visible. This is a common problem for women with dense breast tissue, which, like tumors, appears white on mammography images.
The radiologist will take more images.
Most commonly, the first step in mammography follow up is a diagnostic mammogram. This is different from the screening mammogram that you already had in that it looks specifically at an area of interest. Two specific things that the radiologist will be on the lookout for are calcifications and masses.
Calcifications
Calcifications show up as white spots on a mammogram and come in two distinct forms: macrocalcifications, which are larger and commonly result from benign processes, and microcalcifications, which are smaller and sometimes indicate the presence of cancer. The arrangement of microcalcifications will help the radiologist to determine whether a biopsy is needed. In themselves, calcifications are not cause for concern. They appear in about half of all women over 50 and 10% of younger women.[4]
Masses
Breast masses can be either solid or fluid-filled. Fluid-filled masses are cysts, which are typically harmless. Because cysts can be difficult to distinguish from solid masses on a mammogram, however, ultrasound is often used for this purpose.
A solid mass can be a benign tumor like a fibroadenoma, a result of other benign breast changes, or a malignant tumor. During a diagnostic mammogram, the radiologist will look for signs like blurry or spiked borders, which can indicate infiltration into surrounding tissues, to determine whether a breast mass is likely to be malignant. A breast MRI is sometimes ordered to get a more detailed look at the area.
Biopsy
If the radiologist suspects cancer may be present, a breast biopsy will be performed. This is the only way to positively identify breast cancer. Imaging-guided biopsy, in which X-ray, ultrasound, or MRI is employed to help the radiologist pinpoint the correct area to sample can help to provide the most accurate results possible. If the biopsy shows cancer, then the sample will be analyzed to determine the type of cancer present so that an appropriate treatment plan can be developed. Keep in mind, however, that 80% of women who undergo breast biopsy are found not to have cancer.[5]
At Iowa Radiology, we provide a full spectrum of women's imaging services, including 3-D digital mammography with Smart Curve compression for enhanced comfort, breast ultrasound and MRI, and imaging-guided biopsy.
[1] "Limitations of Mammograms." Cancer.org. American Cancer Society, 9 Oct 2017. Accessed 10 Dec 2018.)
[2] "Getting Called Back After a Mammogram." Cancer.org. American Cancer Society, 9 Oct 2017. Accessed 10 Dec 2018.
[3] American Roentgen Ray Society. "Screening mammography for women 40-49 detects more cancers compared with older age groups." Medical Xpress, 13 March 2018. Accessed 10 Dec 2018.
[4] "Breast Calcifications." WebMD, 23 Nov 2018. Accessed 10 Dec 2018.
[5] "Biopsy." National Breast Cancer Foundation, n.d. Accessed 10 Dec 2018.