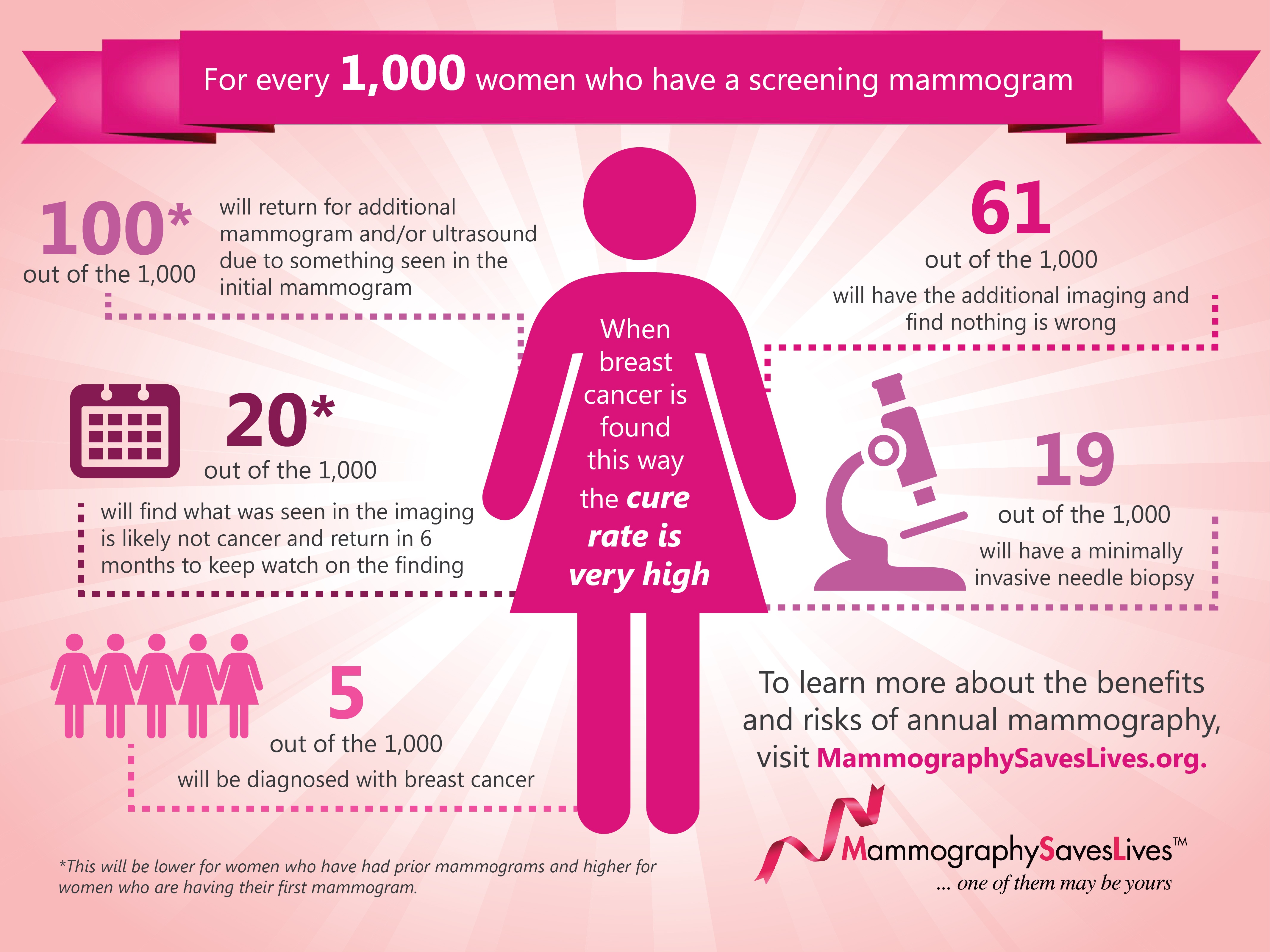 Since 1985, the Society of Breast Imaging (SBI) has sought to save lives through early breast cancer detection and the education patients, physicians, and organizations across the globe. Currently, they are conducting a campaign titled "End the Confusion," aimed at clearing up the many misconceptions created by recent conflicting recommendations about breast cancer screening.
Screening saves lives.
The Society of Breast Imaging reports that despite the fact that mammography doesn't detect cancers with 100% accuracy, studies show a 30–40% decrease in mortality from breast cancer when women receive screening mammography. In fact, since mammography became common across the U.S. in early 90s, the country's breast cancer death rate, which had not changed in 50 years, decreased by more than 30%. Given that one in eight women is diagnosed with breast cancer at some point in her life, many will agree that a 30–40% better chance of survival is a powerful incentive to make it an annual practice. In addition to the increased survival rate that comes with breast cancer screening, early detection enables doctors to treat cancers more effectively with less invasive procedures.
What about radiation?
While exposure to ionizing radiation, such as the X-rays used in mammography, contributes to cancer risk, it's important to understand that risk in relation to others we face. All of us are exposed to some level ionizing radiation every day simply by living on the earth. Those who live at higher elevations or fly on airplanes receive higher levels because they get less protection from the atmosphere. According to the American College of Radiology, a typical mammogram delivers 0.4 mSv of radiation, equivalent to what most people naturally get from the environment over 7 weeks. If you live on the plateaus of Colorado or New Mexico, you get about an extra 1.5 mSv per year—the equivalent of about 3 mammograms. SBI advises that the likelihood of causing breast with mammography is far lower than that of detecting it in women who are 40 and older.
What breast cancer screening recommendations should I follow?
The Society of Breast Imaging, along with the American College of Radiology, the American College of Obstetricians and Gynecologists, and Iowa Radiology, recommends annual mammography screening for women 40 and older. Although some medical organizations have recommended beginning later or screening less often, research shows that annual screening beginning at 40 saves the most lives. The Society of Breast Imaging reports that
About 1 in 69 women will be diagnosed with breast cancer in their 40s.
One in 6 breast cancers found are in women aged 40-49.
Only 25% of women diagnosed with breast cancer are in identified high-risk categories.
Women in their 40s lose more years of life to breast cancer than any other age group.
40% of life years saved by mammography are among women in their 40s.
Research shows that annual screening beginning at age 40 saves around 6,500 more lives annually in the U.S. than biannual screening beginning at age 50.
Iowa Radiology strives to be a valued resource for health information. To learn more about mammography, what to expect, risks, and your choices in mammogram technology, click below to access our free eBook. If it's time to schedule your annual mammogram, click here to request your appointment at our clinics in Ankeny, Clive, or downtown Des Moines. Saturday appointments are available!
The information contained in the Iowa Radiology website is presented as public service information only. It is not intended to be nor is it a substitute for professional medical advice.You should always seek the advice of your physician or other qualified healthcare provider if you think you may have a medical problem before starting any new treatment, or if you have any questions regarding your medical condition.
Image source: American College of Radiology http://www.acr.org/~/media/ACR/Images/Quality%20Safety/Resources/MammographyScreeningFacts.jpg