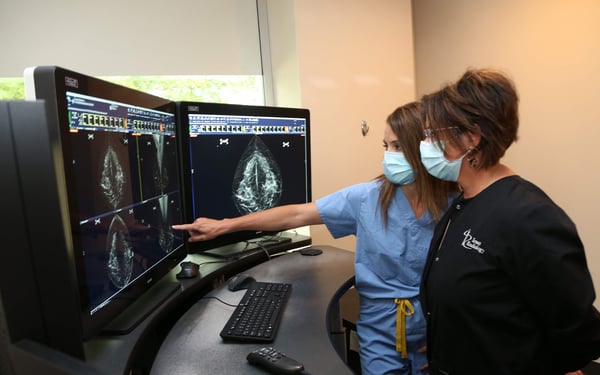 Mammography, Breast Ultrasound, and Breast MRI
You probably are aware of the recommendation that women receive annual screening mammograms beginning at age 40. Mammography, however, is not the only imaging method that is used to screen for and diagnose breast cancer. While mammography is currently the single most important tool in early breast cancer detection, it is sometimes beneficial to supplement mammography with other types of imaging. Additionally, other modalities can be used in place of mammography in cases where the use of X-rays may not be appropriate.
Digital Mammography
Digital mammography consists of X-ray images of the breasts that are recorded on a computer. The use of digital images (as opposed to old-fashioned film) enables the radiologist to manipulate, enlarge, and highlight the images, enhancing their versatility as diagnostic tools.
3-D Mammography
Breast tomosynthesis, often referred to as "3-D mammography" allows radiologists to examine breast images in much greater detail than 2-D digital mammography. With 2-D digital mammography, 2 flat images are obtained; but tomosynthesis generates multiple images of thin layers of breast tissue. This is accomplished by the machine rotating in an arc around the breast, taking pictures from many different angles. Fine details thus become more visible, unobscured by the surrounding tissue.
Breast Ultrasound
Breast ultrasound is most commonly used to help diagnose areas of concern detected on mammography, felt during a physical examination, or causing focal pain in the breast. Ultrasound images can provide valuable information about the composition of an abnormality (whether it is solid, fluid-filled, or a combination), blood supply, and other features in the area that can be useful in diagnosis.
Breast ultrasound is sometimes used to supplement mammography screening, particularly in women with dense breast tissue that makes traditional mammograms more difficult to interpret. Ultrasound may also be used for screening during pregnancy, when women should avoid exposure to X-rays.
Finally, breast ultrasound can be useful in screening women at high risk for breast cancer. While MRI is the preferred modality for this, some women are unable to undergo MRI due to implanted medical devices or other contraindications.
Breast MRI
Breast MRI is a highly useful tool in screening for, diagnosing, and treating breast cancer. MRI can provide information about many breast conditions that is not obtainable with X-ray or ultrasound methods. As a result, supplemental MRI screening of women who are at high risk for breast cancer (usually, a close family member diagnosed before age 50) is often recommended. If you have a history of breast or ovarian cancer in your family, talk to your doctor about the best type of breast cancer screening for you. Other uses of breast MRI include
Imaging newly diagnosed breast cancer to determine its extent – whether it has invaded underlying muscle, whether additional cancers exist in either breast, and whether lymph nodes show signs of involvement
Getting a closer look at abnormalities that are difficult to assess in mammography or ultrasound images to help determine whether biopsy is necessary
Examining lumpectomy sites following breast cancer treatment to differentiate maturing scar tissue from cancer recurrence
Observing the effect of chemotherapy treatment on existing tumors prior to surgery
Determining whether silicone breast implants have ruptured
Iowa Radiology is proud to provide outstanding women's health services, including cutting-edge breast imaging, across the Des Moines metro area. As certified Breast Imaging Center of Excellence (BICOE), we are recognized by the American College of Radiology (ACR) as an exemplary provider of breast imaging services, using state-of-the-art technology, training, and safety measures.
Learn more about general breast health by downloading our free ebook.
The information contained in the Iowa Radiology website is presented as public service information only. It is not intended to be nor is it a substitute for professional medical advice. You should always seek the advice of your physician or other qualified healthcare provider if you think you may have a medical problem before starting any new treatment, or if you have any questions regarding your medical condition.
Iowa Radiology occasionally supplies links to other web sites as a service to its readers and is not in any way responsible for information provided by other organizations.
Sources
"Magnetic Resonance Imaging (MRI)- Breast" Radiologyinfo.org. Radiological Society of North America, n.d. Web. 19 April 2016.
"Ultrasound- Breast" Radiologyinfo.org. Radiological Society of North America, n.d. Web. 19 April 2016.