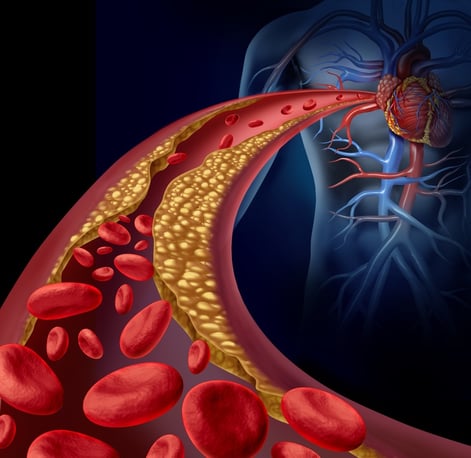 What is cardiac calcium?
Over time, the LDL (or "bad") cholesterol in our blood can accumulate in artery walls, particularly after they have been damaged by factors such as smoking, high blood pressure, or diabetes. White blood cells attempt to digest the cholesterol, creating plaque. When this plaque builds up the in the arteries, they narrow, making the heart work harder. The plaque deposits can burst, creating a clot that can block blood flow and lead to a heart attack or stroke, so the body defensively creates calcium deposits around the arterial plaque in an attempt to prevent it from bursting. Therefore, determining the presence and extent of calcified plaque in the coronary arteries can provide valuable information about a patient's heart health.
How is cardiac calcium measured?
In the 1990s, doctors learned that these calcium deposits show up on CT scans and are indicative of coronary artery disease (CAD), which may present no symptoms prior to a heart attack. As a result, cardiac CT scans have become a valuable tool in assessing patients' risk of heart attack. Depending on the amount of calcium buildup found, each patient is assigned a score:
| | | |
| --- | --- | --- |
| Score | Evidence of CAD | Heart attack risk |
| 0 | None | Very Low |
| 1-10 | Minimal | Low |
| 11-100 | Mild | Moderate |
| 101-400 | Moderate | Moderate-High |
| Over 400 | Extensive | High |
This information can inspire at-risk patients to make the changes necessary, such as improving diet, getting more exercise, quitting smoking, or taking recommended medications to improve their long-term health.
Newly Discovered Benefits of Cardiac Calcium Scoring
A recently published long-term study indicates that an elevated cardiac calcium score can provide insight to other health risks as well, including cancer, kidney disease, and chronic obstructive pulmonary disease (COPD). According to Dr. Michael Blaha of the Johns Hopkins University School of Medicine, "Plaque in the arteries is the result of cumulative damage and inflammation, and vulnerability to injury and chronic inflammation likely contributes to diseases like cancer, kidney and lung diseases, as well as cardiovascular disease. So it makes sense that the coronary calcium score – a measure of arterial aging – is predictive of noncardiovascular diseases too…. it's a direct measurement of the cumulative effect of all risk factors, rather than a consideration of a single risk factor, like obesity, smoking or high blood pressure."
According to the study published in Journal of the American College of Cardiology: Cardiovascular Imaging, researchers followed 6,000 patients over the course of ten years, finding that
Patients whose cardiac calcium scores were over 400 at initial examination had a 53% increased risk of developing cancer over the next 10 years;
A high cardiac calcium score correlated to a 70% increased risk of developing kidney disease; and
Patients whose scores were over 400 were 2.7 times more likely to be diagnosed with COPD than those with no detectable cardiac calcium.
Should I consider a cardiac calcium test?
Those at higher risk for developing coronary artery disease should discuss the potential benefits of cardiac calcium scoring with their physicians, who may recommend the exam. Common CAD risk factors include:
Family history of CAD
Diabetes
High LDL cholesterol
Physical inactivity
Obesity
Tobacco smoking
What should I expect during a cardiac CT scan?
A cardiac CT scan is quick, painless, and noninvasive. No contrast material is needed. Prior to the exam, you will change into a gown and remove any jewelry. You will lie on your back on the CT exam table, and your heart rate will be monitored using an electrocardiograph (ECG) via electrodes fastened to your chest. The exam table will move through the machine, and you will be asked to hold your breath for 10-20 seconds at a time so that you are completely still as images are captured. The entire exam takes approximately 20 minutes. Our radiologist will send a report to your referring physician within one business day.
Would you like to learn more about CT exams, including cardiac calcium scoring? Click below to access our free eBook that discusses the benefits, risks, and many valuable uses of CT scanning.
The information contained in the Iowa Radiology website is presented as public service information only. It is not intended to be nor is it a substitute for professional medical advice. You should always seek the advice of your physician or other qualified healthcare provider if you think you may have a medical problem before starting any new treatment, or if you have any questions regarding your medical condition. Iowa Radiology occasionally supplies links to other web sites as a service to its readers and is not in any way responsible for information provided by other organizations.
Sources
"Cardiac CT for Calcium Scoring." Radiologyinfo.org. Radiological Society of North America, Inc. Web. 9 June 2016.
" Calcium Scan Can Predict Premature Death Risk, Study Says." HealthDay.com. Health Day, 6 July 2015. Web. 9 June 2016.
Johns Hopkins Medicine. "High coronary calcium score may signal increased risk of cancer, kidney and lung disease." ScienceDaily. ScienceDaily, 9 March 2016. Web. 9 June 2016.
"Your Calcium Scoring Test Results." AthensHealth.org. Athens Regional Health System, n.d. Web. 9 June 2016.