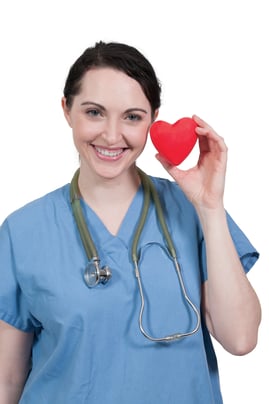 In honor of International Women's Day on March 8, we're highlighting a vital aspect of women's health care that receives far too little attention: heart health. Traditionally (and erroneously), heart disease and heart attacks have been viewed as primarily a men's problem. The fact is that heart disease is the #1 killer of women in the U.S., afflicting 1 in 3 women and accounting for 1 in 4 female deaths. What's more, women and their health care providers often do not recognize symptoms of heart attack because they can be quite different from the symptoms that men experience.
Heart disease is a women's disease, too.
Heart disease affects women at approximately the same rate as men; in 2011, 51% of deaths from cardiovascular disease were in females.
Nearly 2/3 of women who die suddenly of coronary heart disease have no previous symptoms.
26% of women age 45 and older die within a year of an initial recognized heart attack, compared to 19% of men.
Cardiovascular disease causes about the same number of deaths in females as chronic lower respiratory diseases, diabetes, and all forms of cancer combined.
Women receive different care than men.
It's important for women to recognize that when they experience a heart attack, they are treated differently than men. For instance, they tend to receive less aggressive treatment, in part because women's typically smaller hearts and blood vessels and higher incidence of bleeding create an increased risk of complications. This fact makes it even more important for women to take steps to prevent heart attacks.
For reasons that are less clear, women are less likely than men to be prescribed medications such as ACE inhibitors, statins, and beta blockers following a heart attack, although these medicines help to heal the heart following a heart attack and have been shown to prevent future cardiac events and decrease the risk of fatality. Women are also less often referred for cardiac rehabilitation, despite the fact that clinical trials show women benefit from these programs even more than men do. Further, 2005 study also showed that women are less likely to undergo diagnostic testing for heart disease. Although awareness of these discrepancies is increasing, there is still much work to be done before women receive the same level of cardiac care that men do.
Heart attacks can look different in women.
Because heart attack can present very differently in women, and the classic chest pains that many expect may be absent, it's important to be able to recognize other possible symptoms, such as
Upper back pain or other upper body discomfort
Heartburn or indigestion
Nausea and/or vomiting
Extreme fatigue
Shortness of breath
Additionally,
A fluttering feeling in the chest may suggest arrhythmia, or irregular heartbeat, which should be checked out by a doctor.
Swelling in the feet, ankles, legs, and/or abdomen can be a sign of heart failure, particularly when combined with fatigue and shortness of breath.
Sudden weakness, paralysis, or numbness (especially on one side of the body), confusion, trouble speaking or understanding words, vision problems, and loss of coordination are common signs of stroke.
Women take on a lot of the responsibility of caring for family members, and often, their own health takes second place. Celebrate International Women's Day by caring for yourself. Being aware of how a heart attack or other cardiovascular problems can look and feel in women will help you be aware of your own health condition and advocate for your appropriate care.
At Iowa Radiology, we pride ourselves on providing exceptional patient care, and we provide a wide range of women's imaging services, including digital mammography, bone density scans, ultrasound, breast biopsy, and more.
We also want you to have all the information you need to make educated heath care choices. Click below to access our free eook guide about what to expect when you get an MRI, one of the most common imaging procedures.
The information contained in the Iowa Radiology website is presented as public service information only. It is not intended to be nor is it a substitute for professional medical advice. You should always seek the advice of your physician or other qualified healthcare provider if you think you may have a medical problem before starting any new treatment, or if you have any questions regarding your medical condition. Iowa Radiology occasionally supplies links to other web sites as a service to its readers and is not in any way responsible for information provided by other organizations.
Sources
Campbell, "Gone in 80 Seconds – Women and Heart Disease." U.S. News & World Report. U.S. News & World Report LP, 12 Feb 2016. Web. 4 March 2016.
"Statistical Fact Sheet 2015 Update – Women & Cardiovascular Diseases" Heart.org. American Heart Association Inc., 2015. Web. 4 March 2016.
"Why Doctors Still Misunderstand Heart Disease in Women." The Atlantic. The Atlantic Monthly Group, 26 Oct 2015. Web. 3 March 2016.
"Women and Heart Disease Fact Sheet." CDC.gov. U.S. Department of Health and Human Services, 30 Nov 2015. Web. 4 March 2016.