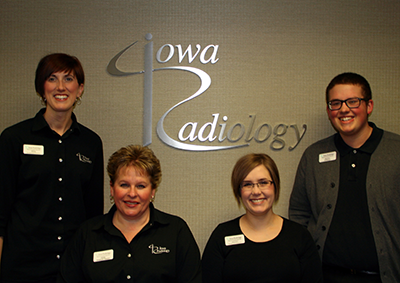 Iowa Radiology strives to be the provider of choice in the Des Moines area for imaging services. These are just a few of the reasons you should schedule your next radiologic procedure with us.
1. Superior Training
All of our radiologists are board certified, and many have completed fellowships in specialty areas. Having several fellowship-trained radiologists on staff enables us to provide a superior level of expert care in a wide range of imaging applications. Our radiologists' specialties include breast imaging, pediatric radiology, neuroradiology, body imaging, musculoskeletal radiology, MRI, and vascular and interventional radiology.
2. Exemplary Facility
Our facility has received several accreditations from the American College of Radiology (ACR). The ACR accreditation process not only requires staff to be highly qualified, but it also ensures equipment safety, adequate quality assurance procedures, and other competencies necessary to each particular accreditation. We have earned accreditation in mammography, ultrasound, MRI, CT, breast ultrasound, and stereotactic breast biopsy. We have also been designated by the ACR as a Breast Imaging Center of Excellence (BICOE), which requires accreditation in all of the ACR's voluntary breast imaging programs and modules. Although it will not be required for BICOE status until 2016, Iowa Radiology has also earned accreditation in breast MRI.
3. State-of-the-Art Equipment
Our facility utilizes some of the most advanced technology in the industry to obtain the highest quality and most informative images possible. We offer breast tomosynthesis (3D mammography), which allows for a more finely detailed study of breast tissue. A study published in the Journal of the American Medical Association[1] found that the use of breast tomosynthesis can help to increase cancer detection while reducing false positives and callback rates as compared to mammography alone.
We also provide CT colonography (virtual colonoscopy), which is less invasive and carries a lower risk of complications than traditional colonoscopy. It also allows for detection of some abnormalities that occur outside the colon, such as cancers and abdominal aortic aneurysms.
We employ SAFIRE radiation reduction technology to ensure that our patients receive the lowest radiation dose necessary for the imaging they require. SAFIRE is a new image reconstruction technology that has been shown to reduce radiation dose by up to 60% while improving image quality.
4. Patient Care & Customer Service
At Iowa Radiology, we understand that undergoing diagnostic testing can be stressful and, at times, confusing. That is why we dedicate ourselves to attending to the personal side of patient care as well as the technical side. Our outpatient facilities are conveniently located in Ankeny, Clive and Des Moines. We know that our patients have many questions about their procedures, and we encourage them to ask. We always take the time to provide full explanations and help our patients to feel as comfortable as possible.
Our compassionate approach to patient care forms the culture of our practice and the way we run our office. We know that your time is valuable, so we make every effort to schedule patients appropriately so they don't have to waste time in the waiting room. Often, we can offer last-minute appointments to accommodate unpredictable schedules. We also know that waiting for a diagnosis can be an anxiety-provoking ordeal. That is why we make it a priority to deliver prompt results. The results of our tests are reported to your referring provider within one business day.
5. Community Involvement
Iowa Radiology is dedicated to promoting health, research, and patient care for all. That is why we proudly sponsor many community events that support these goals. Although Komen Race for the Cure is probably the best-known event that we sponsor, we also support Can Do Cancer Trivia Night, the Free to Breathe Run/Walk, Metro Arts Rock and Run, and the Lymphoma and Leukemia Society Light the Night Walk to name a few.
Iowa Radiology is a clear choice for your care, whether you are looking for the best in expertise and technology, exceptional communication and personalized care, or providers who give back to our community. For ongoing health tips and to learn more about us, subscribe to our blog.
The information contained in the Iowa Radiology website is presented as public service information only. It is not intended to be nor is it a substitute for professional medical advice. You should always seek the advice of your physician or other qualified healthcare provider if you think you may have a medical problem before starting any new treatment, or if you have any questions regarding your medical condition.
Iowa Radiology occasionally supplies links to other web sites as a service to its readers and is not in any way responsible for information provided by other organizations.
Sources
[1] Friedewald, et al. "Breast Cancer Screening Using Tomosynthesis in Combination With Digital Mammography." JAMA. 311.24 (2014): 2499-2507.