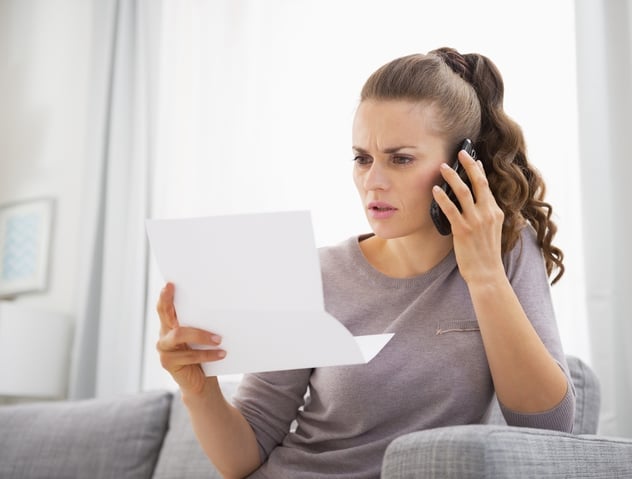 A callback after your mammogram doesn't mean anything is wrong.
It's natural to be concerned any time you get medical test results that come back as anything except 100% normal, especially when the test is a cancer screening. However, it's important to keep in mind that mammogram follow-up is often a way of looking more closely at structures that may well be perfectly harmless. Although advances in mammography have improved imaging and increased accuracy, depending on the type of mammography used, between 8 and 10 percent of women are still called back for further testing after their annual screening.[1] Of those women who are called back, only 8 to 10 percent undergo biopsy, and 80% of those biopsies ultimately show benign conditions.[2]
Calcifications are normal.
A common reason to be called back for further screening is the appearance of calcifications on your mammogram. In themselves, calcifications are harmless. They are simply little calcium deposits that develop with age, injury, or inflammation. About half of women over 50 and 10% of younger women have calcifications in their breasts.[3] Sometimes, the radiologist will look more closely at calcifications if the size and distribution pattern suggests that they may be a result of cancerous cell growth.
Certain types of calcifications may suggest the presence of cancer.
There are two general types of calcifications that appear on mammograms: micro (small) calcifications and macro (large) calcifications (see illustrations here). These terms are relative; even macrocalcifications are too small to be felt. They are, however, the larger of the two varieties. Macrocalcifications are typically round and spread throughout the breast tissue in a seemingly random pattern. Microcalcifications are more often irregularly shaped and may appear in clusters.[4] Although both types are usually benign, microcalcifications that appear in a line or cluster can be the earliest sign of developing breast cancer.[5]
If the radiologist determines that calcifications on your mammogram raise a concern that cancer may be present, then follow-up will be recommended. You may simply be asked to come back for additional imaging and monitored over time for changes, or your doctor may recommend a biopsy. Although most follow-up testing comes back normal, it is important that you keep all appointments so your evaluation is as accurate as possible and, in the event that cancer is present, it is identified as early as possible. Breast cancer patients who are diagnosed early tend to receive much less invasive and less debilitating treatments than later-stage patients, and their survival rates are considerably higher.
At Iowa Radiology, we want you to have all the information you need to make wise health care choices and to avoid unnecessary stress and worry. If you ever have questions or concerns about a procedure scheduled with us, don't hesitate to bring them up. We're always happy to take the time to discuss your health care. You can find answers to many common questions about mammography in our free eBook, "What You Need to Know About Your Mammogram. Simply click the link below to download it. If you're ready to schedule your annual mammogram with us, call our Clive, Ankeny, or Downtown Des Moines location, or click here to fill out our online form.
[1] "3-D mammography improves cancer detection and cuts 'call backs' over three years." ScienceDaily. ScienceDaily, 18 Feb 2016. Web. 29 March 2016.
[2] Uscher, "Suspicious Mammogram Result: Now What?" WebMD. WebMD LLC, n.d. Web. 29 March 2016.
[3] "Facts for Life: Breast Calcifications." Komen.org. Susan G. Komen, Jan 2016. Web. 29 March 2016.
[4] Ibid.
[5] "Evaluation of Breast Calcifications." Indian Journal of Radiology and Imaging. Wolters Kluwer, Nov 2009. Web. 29 March 2016.
The information contained in the Iowa Radiology website is presented as public service information only. It is not intended to be nor is it a substitute for professional medical advice. You should always seek the advice of your physician or other qualified healthcare provider if you think you may have a medical problem before starting any new treatment, or if you have any questions regarding your medical condition.
Iowa Radiology occasionally supplies links to other web sites as a service to its readers and is not in any way responsible for information provided by other organizations.