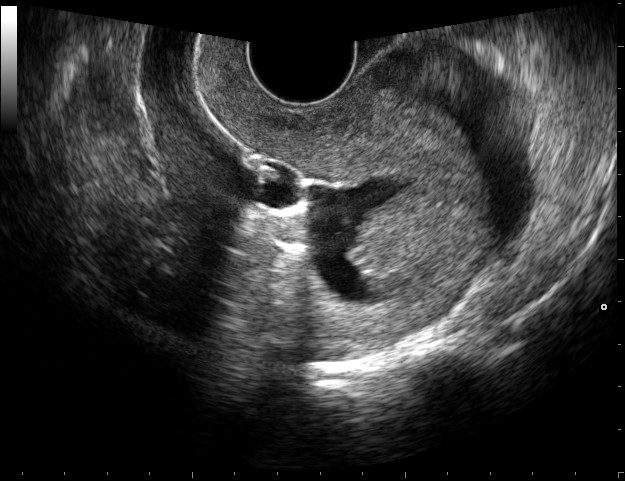 A sonohysterogram or saline infusion sonogram (SHG) is a minimally invasive ultrasound imaging procedure that allows a radiologist to examine the interior of the uterus and the endometrium. One reason your doctor may recommend a sonohysterogram is to investigate the cause of infertility or repeated miscarriages.
Structures such as fibroids and polyps can sometimes cause infertility.
Fibroids
Fibroids are benign tumors composed of muscle tissue that occur in or around the uterus. They can be as small as a few millimeters or grow quite large. Approximately ¾ of women develop fibroids by age 50. Most women who have fibroids are not infertile (in fact, they're found in 2-12% of pregnant women). Depending upon their size and location, however, fibroids may interfere with the ability of sperm to reach an egg, an egg's ability to implant, or the ability of a pregnancy to be carried to term. As a result, a sonohysterogram can provide vital information about how fibroids might be influencing fertility and pregnancy.
Polyps
Polyps are the result of an overgrowth of the endometrium, or uterine lining. They tend to be smaller than fibroids, typically ranging from a few millimeters to several centimeters in size. Polyps often cause irregular bleeding and may sometimes also cause infertility. Although uterine polyps are usually benign, cancers or precancerous conditions within the uterus may also appear as polyps, so differentiating them from fibroids will help your doctor determine whether to recommend a biopsy.
A sonohysterogram enables the radiologist to detect and evaluate these types of uterine conditions, potentially eliminating the need for more invasive diagnostic procedures like biopsy or dilation and curettage. While a sonohysterogram can give some information about the condition of the fallopian tubes in addition to the uterus itself, its usefulness in this capacity is more limited. If fallopian tube blockage is suspected, doctors most often recommend a hysterosalpingogram.
How Does Sonohysterography Work?
Rather than relying on the removal of tissue for examination in a laboratory, a sonohysterogram utilizes saline to highlight features within the uterus so they show up more clearly on ultrasound. Doctors can then evaluate the size and position of any irregularities in order to better recommend a course of treatment.
During a sonohysterogram, a standard transvaginal ultrasound is performed first, and then a thin, flexible catheter is inserted through the cervix into the uterine cavity. Sterile saline injected through the catheter enlarges the uterus, allowing for clearer imaging, and then the transvaginal ultrasound is repeated. For more detailed information on the procedure itself, see our previous post, "What Is a Sonohysterogram?"
Iowa Radiology provides a wide range of women's imaging services in the Des Moines metro, including sonohysterography, hysterosalpingography, breast imaging and biopsy, and bone density scanning. We want you to have all the information you need about your health care and are available to answer any questions you have about procedures at our clinics. Feel free to download either of our free eBooks, which contain helpful information about common imaging procedures.
The information contained in the Iowa Radiology website is presented as public service information only. It is not intended to be nor is it a substitute for professional medical advice. You should always seek the advice of your physician or other qualified healthcare provider if you think you may have a medical problem before starting any new treatment, or if you have any questions regarding your medical condition.
Iowa Radiology occasionally supplies links to other web sites as a service to its readers and is not in any way responsible for information provided by other organizations.
Sources
"Difference Between Uterine Polyps vs. Fibroids." Uterine-fibroids.org. n.p., n.d. Web. 11 May 2016.
"Fibroids and Fertility." ASRM.org. American Society for Reproductive Medicine, n.d. Web. 11 May 2016.
"Sonohysterography." Radiologyinfo.org. Radiological Society of North America, n.d. Web. 11 May 2016.
"Uterine Polyps." MayoClinic.org. Mayo Foundation for Medical Education and Research, n.d. Web. 11 May 2016.