If you struggle with infertility issues, you're not alone. Fortunately, there are many diagnostic imaging tests available to try to pinpoint the cause of the problem and direct the best course of personalized treatment for you.
One of the tests frequently used to try to determine the cause of infertility is a hysterosalpingogram (HSG). Despite its difficult name, this is a fairly quick and easy procedure using X-ray and fluoroscopy technology, designed to test whether there are any obstructions or abnormalities in the fallopian tubes.
Why would I need a hysterosalpingogram?
Since there are many factors that can inhibit conception, your physician may recommend a hysterosalpingogram to determine if your difficulty is because of a physical blockage in your fallopian tubes.
In a normal fertility cycle, once an egg is released from a woman's ovary, the soft, finger-like open end of the nearby fallopian tube sweeps it in and sends it towards the uterus.[1] If it encounters sperm cells and successfully bonds with one of them, the fertilized egg continues traveling through the tube, ultimately arriving at and attempting to implant into the nutrient-rich lining of the uterus. If the fallopian tubes are blocked in some way, however, this journey can be stymied, and a woman can find it difficult to become pregnant.
How does the test work?
It's important to do the exam at the most optimal time during your menstrual cycle, 6-12 days after the onset of menstruation.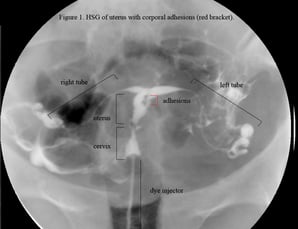 To perform the procedure, the radiologist will insert a speculum into your vagina to access the cervix. Then, a flexible catheter is passed through the cervix into the uterus, and a contrast material is injected through the catheter. X-ray pictures are taken and viewed live on a TV monitor.
If there are no blockages, the contrast material will fill the uterus, flow easily through the fallopian tubes, and dissipate into the abdominal cavity around each ovary. If there are any blockages or abnormalities, the flow of the contrast material will be interrupted and visible on the X-ray photos.[2] X-ray images may be taken at various angles to get a clear picture of the path of the contrast material and any anomalies, adhesions, or obstructions in the uterus or fallopian tubes.
The exam takes about 30 minutes to complete.
Are there any risks or side effects?
Because a catheter is inserted into your cervix to convey the contrast material, you may experience cramping similar to menstrual cramps. These usually only last 5-10 minutes after it is removed but can persist longer; they can be treated with over-the-counter anti-inflammatory medications (like ibuprofen or naproxen) or pain medication (like acetaminophen or aspirin). You may also experience some spotting in the day or two following the procedure.
X-rays are used during the procedure, exposing you to a small amount of radiation. The risk of harm from radiation is generally very low compared with the potential benefits of the test.
What happens next?
Our radiologist will discuss the results with you following your exam, analyze the images, and send a signed report to your referring physician within 1 business day.
If your tubes are blocked, your doctor may recommend a surgical procedure to directly view and possibly attempt to unblock the tubes (laparoscopy) or suggest performing in vitro fertilization (IVF), where an embryo is implanted directly into the uterus, bypassing the fallopian tubes entirely. You should discuss your fertility treatment options with your physician.
To learn more about women's imaging and other health care options, subscribe to our blog.
The information contained in the Iowa Radiology website is presented as public service information only. It is not intended to be nor is it a substitute for professional medical advice. You should always seek the advice of your physician or other qualified healthcare provider if you think you may have a medical problem before starting any new treatment, or if you have any questions regarding your medical condition.
Iowa Radiology occasionally supplies links to other web sites as a service to its readers and is not in any way responsible for information provided by other organizations.
Sources
[1] http://www.ucsfhealth.org/education/conception_how_it_works/