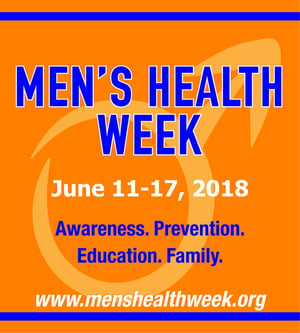 Since 1994, the U.S. has recognized National Men's Health Week in order to raise awareness of preventable disease in men and boys as well as the benefits of early detection and treatment. The joint resolution that established this designation cited the threat of cancers and other diseases and recognized that men tend to visit their doctors less often than women. In 2002, representatives from six leading men's health groups from various nations came together and agreed to launch International Men's Health Week. Each year, health care providers and policy makers around the world work to encourage men and boys to get regular checkups and care for their health.
In recognition of Men's Health Week, we'll look at some of the health risks men face and what individuals can do to reduce those risks.
Cancers
It's estimated that roughly half of men will develop cancer at some point during their lives.[1] While that may sound grim, there is good news as well: there is a lot you can do to improve your odds of avoiding or surviving a cancer diagnosis. The American Institute for Cancer Research (AICR) states that nearly half of the most common cancers can be prevented by taking the following simple steps:[2]
Eating a healthy diet that includes a variety of foods and plenty of fruits and vegetables
Exercising at least 30 minutes per day
Maintaining a lean body weight
Avoiding tobacco (smoking causes 1/3 of cancer deaths

[3]

)
Protecting your skin from UV exposure
Getting appropriate vaccines
If you are faced with a cancer diagnosis, detecting and treating it early can help you have the best possible odds of survival. Get regular checkups, and discuss your cancer risk and any symptoms you may notice with your doctor. Symptoms of cancer vary widely and can resemble symptoms of common ailments, but be sure to mention anything that is new or unusual. Some symptoms that could indicate cancer include[4]
Palpable lumps
Persistent and unexplained pain
Unusual bleeding
Wounds that don't heal properly
Changes in moles
Sore throat or cough that doesn't go away
Chronic nausea
Fever that lasts more than a few days
Cardiovascular Disease
Cardiovascular disease (CVD) includes a variety of conditions that affect the heart and blood vessels. The CDC reports that heart disease is the number one killer of men in the U.S., causing 1 in 4 male deaths, and half of men who die suddenly of heart disease don't experience prior symptoms. While not all risk factors may be within your control, you can significantly reduce your risk of developing heart disease by avoiding those you can. Known risk factors include[5]
Tobacco smoking
Inactivity
Excessive alcohol use
Poor diet (for example, large amounts of processed meats, refined carbohydrates, and/or sugar

[6]

)
Overweight or obesity
Diabetes
High blood pressure
High LDL cholesterol
Discuss your risk of cardiovascular disease with your doctor. If your risk is elevated, then you may be advised to undergo CT cardiac calcium scoring. This is an imaging exam that allows a radiologist to determine the level of calcified plaque buildup in the coronary arteries. This information helps your doctor better assess your risk of heart attack, stroke, and other CVD-related health events. Additionally, some research has shown that it can provide insight into your risk of other dangerous conditions, including cancer, lung disease, and kidney disease.[7]
Iowa Radiology uses state-of-the-art technology in the hands of highly trained technologists and radiologists to aid in the early detection and treatment of potentially dangerous health conditions. Click the link below to learn about CT exams, including cardiac calcium scoring.
[1] "Cancers." Men's Health Resource Center. Men's Health Network, 7 June 2104. Accessed 8 May 2018.
"Prevent Nearly 50% of the Most Common Cancers." AICR.org. American Institute for Cancer Research, 20 Jan 2015. Accessed 8 May 2018.
[3] "Cancers." Men's Health Resource Center. Men's Health Network, 7 June 2104. Accessed 8 May 2018.
[4] Ibid.
[5] "Men and Heart Disease Fact Sheet." CDC.gov. Centers for Disease Control and Prevention, 23 Aug 2017. Accessed 8 May 2018.
[6] "Avoid these foods for a healthier heart." Harvard Health. Harvard University, 13 Dec 2011. Accessed 8 May 2018.
[7] "High coronary calcium score may signal increased risk of cancer, kidney and lung disease." ScienceDaily, 9 March 2016. Accessed 9 May 2018.
The information contained in the Iowa Radiology website is presented as public service information only. It is not intended to be nor is it a substitute for professional medical advice. You should always seek the advice of your physician or other qualified healthcare provider if you think you may have a medical problem before starting any new treatment, or if you have any questions regarding your medical condition.
Iowa Radiology occasionally supplies links to other web sites as a service to its readers and is not in any way responsible for information provided by other organizations.