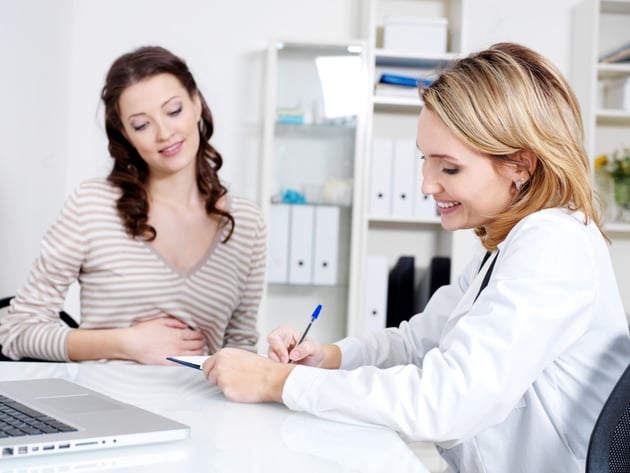 A sonohysterogram is an ultrasound exam of the uterus and fallopian tubes that can be used to investigate the cause of problems such as infertility, abnormal menstrual bleeding or cramping, or pelvic pain. It may also be done prior to IVF treatment to rule out issues that could interfere with embryo implantation. If your doctor has ordered a sonohysterogram, it's likely that you have questions about what to expect. In general, the procedure is minimally invasive, typically causes only mild discomfort, and carries a low risk of complications.[1]
How should I prepare for a sonohysterogram?
First, your doctor or imaging provider will advise you about the best time to schedule your appointment. For women with regular cycles lasting approximately 28 days, this is usually about one week after menstrual flow ends. If your cycle is different, then you may receive different instructions. However, in order to minimize infection risk as well as get the highest possible image quality sonohysterography is not performed during menstruation.[2]
If there is any chance that you are pregnant, inform your doctor. Sonohysterography is contrarindicated during pregnancy. It is also contraindicated if you have a current pelvic infection or STI, so be sure to report any symptoms that might indicate one of this issues to your doctor before scheduling your exam.[3]
On the day of the exam, wear clothing that is easy to remove and put back on. A two-piece outfit may allow you to remain dressed from the waist up. Sonohysterography is performed with an empty bladder, so you'll be asked to use the restroom before going into the exam room. If you experience pain or discomfort during your regular pap smear or other minimally invasive gynecological procedures, you may want to take an over-the-counter pain reliever 30–60 minutes before you arrive.[4]
What happens during the exam?
First, you will lie on your back on the exam table, and the technologist will use a wand-shaped transducer covered with a plastic sheath (like a condom) to perform a transvaginal (TV) ultrasound. If you've never undergone TV ultrasound before, you may want to read our article, "What's a Transvaginal Ultrasound Like and Why Do I Need One?" Basically, it's an ultrasound performed with the transducer placed inside the vagina rather than on the surface of the skin. This tends to be more comfortable than a regular pelvic exam. However, if you experience any discomfort during this part of the exam, be sure to let your technologist know so they can make you as comfortable as possible.
After the initial TV ultrasound, the technologist will remove the transducer and insert a speculum, just as your doctor does during a regular gynecologic exam. With the speculum in place, the cervix will be cleaned with a swap, and then a thin tube will be passed into the cervix. Through this tube, sterile saline solution will be passed into the uterine cavity in order to expand it for clearer visualization.
With the saline solution in place, the technologist will reinsert the transducer to take additional ultrasound images. The entire exam takes about 60 minutes.
What should I expect after the exam?
While personal experience varies, most women do not experience significant pain and are able to resume their regular activities the same day. The introduction of saline solution can cause a sensation of pressure, and some women report mild to intense cramping during this phase as well as after the exam. However, this is typically controllable with over-the-counter medications. If you experience intense pain, notify your doctor.
Are their risks involved?
There is a rare risk of pelvic infection associated with sonohysterography. To ensure your safety, notify your doctor if you experience severe or intensifying pain, a change in vaginal discharge, or a general feeling of unwellness following the procedure.[5]
Sonohysterography is a safe, minimally invasive procedure that can help your doctor to pinpoint the cause of infertility or other gynecological symptoms. If you have questions about an upcoming sonohysterogram at Iowa Radiology, feel free to contact our office. We prioritize our patients' physical and psychological comfort and will do all we can to give you the information you need and help you be as comfortable and at ease as possible during your procedure.
Iowa Radiology regularly updates our blog with articles aimed at helping our readers make informed health care choices. If you'd like updates sent directly to your inbox, click the link below to subscribe.
[1] "Sonohysterography." Radiologyinfo.org. Radiological Society of North America, Inc. 8 June 2016. Web. 27 July 2017.
[2] "Sonohysterography FAQ." ACOG.org. American Association of Obstetricians and Gynecologists, Dec 2016. Web. 27 July 2017.
[3] "Sonohysterogram." WebMD.com., WebMD LLC. 9 May 2013. Web. 27 July 2017
[4] "Sonohysterography FAQ." ACOG.org. American Association of Obstetricians and Gynecologists, Dec 2016. Web. 27 July 2017.
[5] Ibid.
The information contained in the Iowa Radiology website is presented as public service information only. It is not intended to be nor is it a substitute for professional medical advice. You should always seek the advice of your physician or other qualified healthcare provider if you think you may have a medical problem before starting any new treatment, or if you have any questions regarding your medical condition.
Iowa Radiology occasionally supplies links to other web sites as a service to its readers and is not in any way responsible for information provided by other organizations.