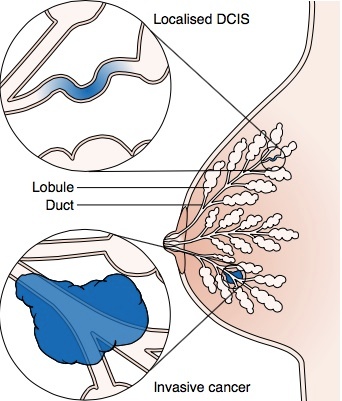 Ductal carcinoma in situ (DCIS), also known as stage 0 breast cancer, is the most common form of non-invasive breast cancer, accounting for about 20% of all new breast cancer cases. "Ductal" indicates that the cancer is found within the milk ducts; "in situ" means that it is localized within the ducts and found nowhere else in the breast.[1] Although not life threatening in itself, DCIS is correlated with an increased risk of developing invasive breast cancer in the future. Susan G. Komen estimates that 40-50% of untreated cases of DCIS will progress to invasive breast cancer if left untreated. At this time, health practitioners are not able to tell which cases will progress and which will not. For this reason, treatment is generally recommended.[2]
Treatment Options
Surgery and Radiation
Surgery is the first step in the treatment of DCIS. Surgery may entail either a lumpectomy or a mastectomy. In a lumpectomy, only the abnormal tissue is removed, conserving the rest of the breast, while mastectomy involves removal of the entire breast.
If only a small area of the milk ducts is affected, then the patient and her doctor make a choice between lumpectomy and mastectomy based on the patient's individual medical profile and personal needs and preferences. Reasons to choose lumpectomy often include a faster recovery time and a desire to preserve the breast. A lumpectomy is generally followed by radiation therapy in order to reduce the risk of DCIS recurrence and invasive breast cancer. Patients with smaller, low-grade DCIS, however, may receive lumpectomy without radiation treatment.
If abnormal cells are found to have spread within the milk ducts, then a mastectomy may be recommended. Radiation therapy is often not performed following a mastectomy to treat DCIS.[3] For this reason, patients who wish or have a medical need to avoid radiation therapy may opt for mastectomy over lumpectomy. The choice of surgical procedures is individual for each patient and is best made collaboratively between the patient and her physician.[4]
Hormone Therapy
Breast tumors may be either hormone-receptor positive, indicating that the cancer needs hormones to grow, or hormone-receptor negative, meaning it does not. The national Comprehensive Cancer Network recommends that women treated for hormone-receptor-positive DCIS with lumpectomy and radiation follow up with a five-year course of tamoxifen. This medication can lower the risk of DCIS recurrence as well as invasive breast cancer by preventing estrogen from binding to receptors. Because women who undergo mastectomy for DCIS have very low risk of recurrence, tamoxifen is not usually recommended in these cases.[5]
If you've recently been diagnosed with breast cancer, it can be difficult to digest all of the information you receive about your condition. At Iowa Radiology, we make sure to take the time to answer all of our patients' questions so they have the information they need to make informed choices about their health care and to make them as comfortable as possible during procedures at our clinics.
The information contained in the Iowa Radiology website is presented as public service information only. It is not intended to be nor is it a substitute for professional medical advice. You should always seek the advice of your physician or other qualified healthcare provider if you think you may have a medical problem before starting any new treatment, or if you have any questions regarding your medical condition. Iowa Radiology occasionally supplies links to other web sites as a service to its readers and is not in any way responsible for information provided by other organizations.
Sources
[1] "DCIS — Ductal Carcinoma In Situ." BreastCancer.org. n.p., n.d. Web. 9 Oct 2015.
[2] "Treatment for DCIS." Komen.org. Susan G. Komen, n.d. Web. 9 Oct 2015.
[4] "Breast Cancer Treatment." Radiologyinfo.org. Radiological Society of North America, Inc., 2015. Web. 9 Oct 2015.
[5] "Treatment for DCIS." Komen.org. Susan G. Komen, n.d. Web. 9 Oct 2015.
Image sources:
"Diagram showing ductal carcinoma in situ (DCIS) CRUK 115" by Cancer Research UK - Original email from CRUK. Licensed under CC BY-SA 4.0 via Commons- https://commons.wikimedia.org/wiki/File:Diagram_showing_ductal_carcinoma_in_situ_(DCIS)_CRUK_115.svg#/media/File:Diagram_showing_ductal_carcinoma_in_situ_(DCIS)_CRUK_115.svg
"Nci-vol-4353-300 ductal carcinoma in situ" by Don Bliss (artist) - National Cancer Institute,This image was released by the National Cancer Institute, an agency part of the National Institutes of Health, with the ID 4353 (image) (next).This tag does not indicate the copyright status of the attached work. A normal copyright tag is still required. See Commons:Licensing for more information.English | Français | +/−. Licensed under Public Domain via Commons - https://commons.wikimedia.org/wiki/File:Nci-vol-4353-300_ductal_carcinoma_in_situ.jpg#/media/File:Nci-vol-4353-300_ductal_carcinoma_in_situ.jpg