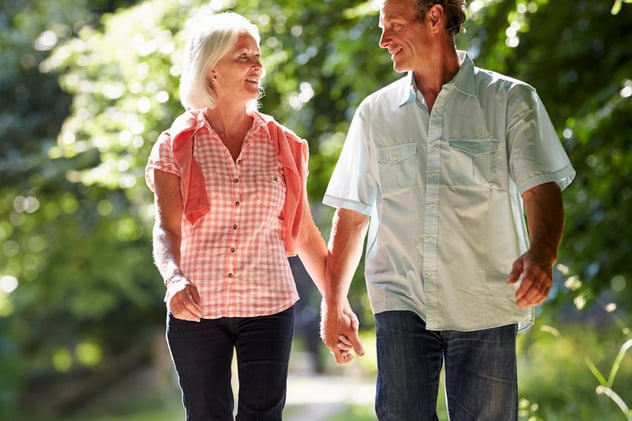 In the past, patients with cancer and other conditions were strongly advised to rest and save their energy. We have come to understand, however, that exercise can actually increase the amount of energy patients have as well as provide a wide range of other physical and psychological benefits.
Why Exercise Now?
Lack of physical activity can lead to weakness, wasting, and loss of body function. By remaining as active as your condition and treatment allows, you can increase your level of health and quality of life both during and after treatment. According to the American Cancer Society, regular exercise can provide the following benefits for patients undergoing cancer treatment:
Decreased nausea
Greater retention of muscle strength and physical abilities
Decreased dependence on others for care
Decreased depression and anxiety
Decreased risk of heart disease
Increased energy
Improved balance and lower risk of falls
Enhanced self-esteem
Greater ability to retain social contacts
Improved blood flow and lower risk of clots
How Should I Start?
Of course, everyone's ability to exercise is different, and each person's ability is different at different stages of treatment. It's important to consult with your doctor before beginning any new exercise program after a cancer diagnosis as well as to consider your fitness level prior to diagnosis, the stage of your cancer, and your course of treatment when designing a plan. Asking your doctor for a referral to a physical therapist is a great way to get a program specifically designed for your needs and abilities at every stage of treatment and recovery.
When Should I Start?
The National Comprehensive Cancer Network advises patients to begin exercising as soon as possible. Patients who begin early are likely to need fewer medications and have a lower risk of complications. Consequently, they advise patients who are not already on an exercise program at the time of diagnosis to begin one prior to starting treatment.
What Types of Exercises Should I Do?
Prior to beginning a new program, be sure to consult with your doctor or physical therapist to ensure that it's safe in your current condition and stage of treatment. Generally speaking, though, it's ideal to include a balance of aerobic exercise to get your heart rate up, strength training to keep your muscles strong, and stretching to stay limber and flexible. Aerobic exercise can be as mild as a slow walk or more active like jogging, swimming, or bicycling, depending on your capabilities at the moment. Even patients who are confined to bed can benefit from either active (performed on their own) or passive (performed with the help of a caregiver) range-of-motion exercises to maintain mobility and relieve pain in muscles and joints.
If advisable, it's ideal to strive for at least 30 minutes of aerobic activity at least five times per week. It's important not to overdo it, however. You can break those 30 minutes into three 10-minute walks if that makes the goal attainable for you. Also, remember that exercise can take many forms, and it's important to choose types of exercise that you enjoy so you're more likely to do them regularly. Activities like gardening, housecleaning, and playing with your kids or grandkids can get your heart rate up and help to improve your mental and physical health.
In the Des Moines metro, the Clive YMCA Healthy Living Center offers LIVESTRONG® at the YMCA, providing cancer survivors with exercise programs designed to meet their individual needs. The facility offers cancer survivors a free 12-week membership with a doctor's referral.
Iowa Radiology strives to provide our patients with the best possible customer service, including the information they need to make wise decisions about their health care. Feel free to browse our online library for information about various exams that we perform, or click below to download one of our free eBooks, full of answers to frequently asked questions about common radiologic procedures.