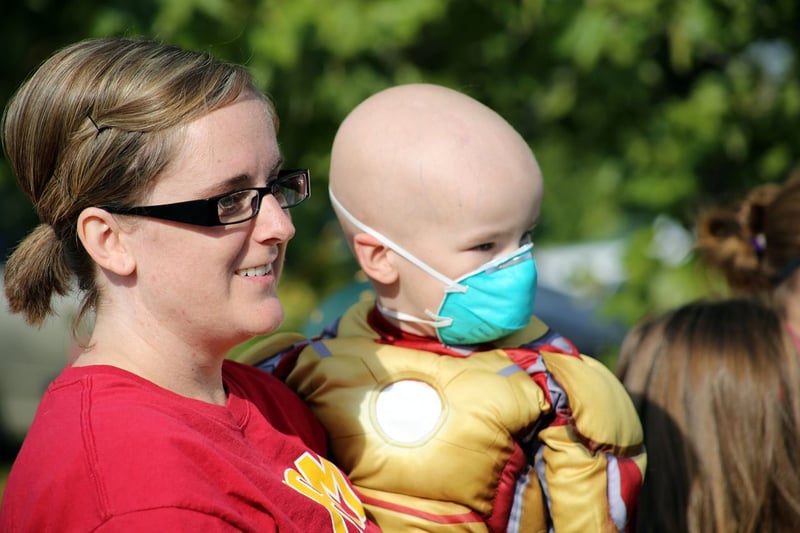 It is estimated that in the U.S., one in 285 children will be diagnosed with cancer before their twentieth birthday. While survival of childhood cancer has increased dramatically in recent decades, the incidence of cancer in children has also been on the rise. Cancer remains the number one cause of death by disease among children in the U.S., resulting more childhood fatalities than any cause other than accidents. In order to change this, more research is necessary to find the causes of and more effective treatments for childhood cancer.
Cancers Most Common in Children
Compared to cancer in adults, cancer in children is relatively rare. Children also are prone to different types of cancers than adults. While breast, lung, prostate, and colorectal cancers are top concerns for adults, leukemias (cancers of the blood and bone marrow) and cancers of the brain and central nervous system make up the majority of cancers diagnosed in children. Cancers of the peripheral nervous system (neuroblastomas), kidneys, and soft tissues collectively account for about 15% of childhood cancers, and lymphomas make up another 8%.
The Good News—Increased Survival
Thankfully, improvements in treatments have led to much higher rates of cancer survival among children than in the recent past. In the mid 1970s, only 58% of children diagnosed with cancer survived at least five years after diagnosis. Today, that number is at least 83%, with more than 90% surviving at least five years after lymphoma diagnosis and 85% after being diagnosed with leukemia. Since 1969, the overall rate of death from childhood cancer has decreased more than 66%.
The Troubling News—Rising Rates of Childhood Cancer
Unfortunately, children are developing cancer at higher rates than in the past. Since 1975, the cancer rate among those under age 19 has been steadily increasing. Overall rates of childhood cancer have risen 27% since that time, and the incidence of some of the most common childhood cancers has risen even more. Since 1975,
Leukemia diagnoses have increased nearly 35%
Soft tissue cancers have increased around 42%
Non-Hodgkin's lymphoma has increased 34%
The reasons for these increases are not well understood. Studies have found associations between childhood cancer risk and exposure to radiation, paints, and pesticides, parental exposure to industrial chemicals, and paternal smoking history, and researchers suspect that more environmental factors may be at play.
Further, a 2015 study found that 8.5% of child cancer patients were born with genetic mutations that increased their cancer risk. While these facts indicate a combination of genetic and environmental factors are likely responsible for childhood cancers, much more research is necessary to determine the reasons for the continued rise in cases.
Help for Families
A childhood cancer diagnosis is incredibly difficult for families. Fortunately, help is available. Organizations like the American Childhood Cancer Organization, Along Comes Hope, and CancerCare for Kids provide access to tools, resources, support networks, and even financial assistance for families dealing with childhood cancer. In Iowa, Children's Cancer Connection offers support, education, and recreation for families throughout their cancer journeys.
At Iowa Radiology, we understand the importance of being treated with care and compassion—especially when you're dealing with difficult health issues. As such, customer service is a vitally important part of health care. This includes taking the time to answer all of your questions and to help you or your family member to be as comfortable as possible during procedures. For information about common imaging procedures performed at our clinics, access our free resources by clicking the links below.
Sources
"Cancer Facts & Figures 2018." American Cancer Society. Accessed 9 Aug 2019.
"Cancers in Children and Adolescents." Cancer.gov. National Cancer Institute, 8 Oct 2018. Accessed 9 Aug 2019.
"Cancers That Develop in Children." Cancer.org. American Cancer Society, 22 Aug 2016. Accessed 9 Aug 2019.
"Childhood Cancer Statistics." ACCO.org. American Childhood Cancer Association. Accessed 9 Aug 2019.
"Key Statistics for Childhood Cancer." Cancer.org. American Cancer Society, 10 Sept 2018. Accessed 9 Aug 2019.
Miller, Goodman. "Childhood Cancer Rates Are Rising. Why?" WebMD, 20 Oct 2016. Accessed 9 Aug 2019.
"Risk Factors and Causes of Childhood Cancer." American Cancer Society, 22 Aug 2016. Accessed 9 Aug 2019.