As people age, bones become more susceptible to fractures. Compression fractures, particularly, occur frequently in women suffering from or with a high ris of osteoporosis (a thinning of the bones), as well as in individuals who have had cancer or have suffered injuries causing broken bones in the spine.[1] A vertebral compression fracture (VCF), in which all or part of a spinal bone collapses, can cause severe, even disabling pain. Fortunately, there are some outpatient procedures which can help restore functionality, increase mobility, and reduce pain without the risks of major spinal surgery.[2] Mom doesn't necessarily have to choose between suffering and undergoing a risky surgery with a long recovery!
First, we will evaluate whether Mom is a good candidate. The best candidates for non-invasive surgical repair have severe pain resulting from one or more compression fractures, which is non-responsive to more conservative treatments. It's also best if the compression fractures are less than six months old. We will perform imaging tests (potentially including MRIs, spinal X-rays, and/or a bone density scan) to determine the exact location and age of the fractures. We may also order blood tests and physical exams. The more recent and easily-identified the fractures, the better the odds that they can be successfully treated with outpatient surgical techniques. (Patients with a high osteoporosis risk may wish to ask their heath care providers whether a bone density scan would be valuable to assess the risk of potential compression fractures and develop a preventative treatment plan.
)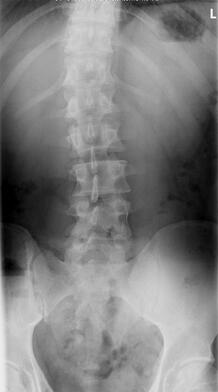 If a recent, specific vertebral fracture can be identified, whether vertebroplasty or kyphoplasty may be the answer depends on the type and severity of the fracture. During a vertebroplasty, a needle is inserted through the spinal muscles into the vertebral column and a kind of bone cement is injected into existing spinal bones. This fills in cracks, strengthening the vertebra and supporting the spinal column. This allows a cracked or fragmented bone to be essentially glued back together. If a vertebral bone has completely collapsed, however, kyphoplasty may be more appropriate. In this surgery, a balloon-like device is inserted into the area in which the bone structure has failed. The balloon is inflated and then filled with the same sort of bone cement used in kyphoplasty. When it hardens, the cement-filled balloon takes the place of the vertebral bone, alleviating the pressure on the spinal nerves and the pain from that pressure.
These procedures are performed using X-ray image guidance to monitor the direction of either the needle with the direct cement injection or a thicker needle with the balloon, followed by the cement-containing injection. This allows for a quick, efficient surgery – usually an hour or so per vertebra treated -- and minimal recovery time following the procedure.
Vertebroplasty and kyphoplasty are relatively safe; compared to inpatient surgery, they are many times safer. Complications may include bleeding, infection, allergic reactions to the injection chemicals, nerve damage, or leakage of the bone cement into surrounding areas like the spinal nerves (which can cause pain and may require further treatment to remove the cement).[3] Since the radiation levels from the X-rays used during the procedure are very low, the exposure risk is considered minimal.[4] Patients usually must rest for a few hours to enable the bone cement to harden and the anesthesia to wear off, but are then released and allowed to return home to recover fully.
Our interventional radiologists offer both procedures at Unity Point Methodist Hospital Outpatient Imaging, using either local anesthesia (where Mom will remain awake, but unable to feel pain) or general anesthesia (where Mom will be completely sedated). We will work with each patient's other care providers to establish a rehabilitation plan to regain strength and functionality and schedule a follow-up visit to ensure Mom is recovering smoothly. Following either procedure, after a few days of some mild soreness, Mom should be able to resume or exceed her previous activity level. Let us help your mom (or you!) get back a better quality of life. Check with your doctor about the appropriateness of vertebroplasty or kyphoplasty.
[1] http://www.nlm.nih.gov/medlineplus/ency/article/007511.htm
[2] http://www.mayoclinic.org/tests-procedures/vertebroplasty/basics/definition/prc-20021308
[3] http://www.nlm.nih.gov/medlineplus/ency/article/007511.htm
[4]http://www.hopkinsmedicine.org/healthlibrary/test_procedures/orthopaedic/kyphoplasty_135,36/
The information contained in the Iowa Radiology website is presented as public service information only. It is not intended to be nor is it a substitute for professional medical advice. You should always seek the advice of your physician or other qualified healthcare provider if you think you may have a medical problem before starting any new treatment, or if you have any questions regarding your medical condition.
Iowa Radiology occasionally supplies links to other web sites as a service to its readers and is not in any way responsible for information provided by other organizations.