Dr. Lindsey Grandbois specializes in Diagnostic Radiology and Breast Imaging here at Iowa Radiology. Although she was born in Fargo, North Dakota, she has lived in West Des Moines since 5th grade.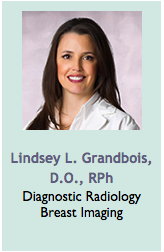 When she was young, Dr. Grandbois dreamed of becoming an artist. When she attended Drake University, however, she found herself more interested in the medical fields. She earned a Bachelor of Science degree in pharmacy before continuing on to medical school at Des Moines University. After earning her D.O. (Doctor of Osteopathy), she spent a year of transitional residency at Broadlawns Medical Center in Des Moines before her four-year radiology residency at Loyola University Medical Center Chicago. Her pharmacy degree, she notes, was a fantastic foundation for success in medical school and as a practicing physician.
Dr. Grandbois was thrilled to return to Iowa after finishing her education because it's her home, and she says Des Moines is a wonderful place to raise a family. She is still madly in love with her husband of 15 years and their three young children (and two goldendoodle dogs)! In addition to her husband and kids, she spends a lot of time with her extended family members. Two sisters, their husbands, and their five boys live nearby, and her parents live in Urbandale.
A passionate advocate for organ donation, Dr. Grandbois has participated in many events and programs to raise awareness and promote participation in donation programs. Actions speak louder than words, however. Last year, she was able to give her dad one of her kidneys on his 61st birthday.
Every day, she says, she's proud of the work done at Iowa Radiology. She understands how important accurate and timely interpretations of radiologic studies are and how much that can impact a patient's care. Her favorite part of her job is giving people good news because it's such a pleasure to watch relief blossom on their faces when she gives them favorable test results.
When she's not at Iowa Radiology, Dr. Grandbois loves traveling, running, and reading.
Iowa Radiology is a clear choice for your care, whether you are looking for the best in expertise and technology, exceptional communication and personalized care, or providers who give back to our community. Give us a call to schedule your appointment at one of our conveniently-located clinics in Clive, Downtown Des Moines, Ankeny, or Lakeview.
The information contained in the Iowa Radiology website is presented as public service information only. It is not intended to be nor is it a substitute for professional medical advice. You should always seek the advice of your physician or other qualified healthcare provider if you think you may have a medical problem before starting any new treatment, or if you have any questions regarding your medical condition.
Iowa Radiology occasionally supplies links to other web sites as a service to its readers and is not in any way responsible for information provided by other organizations.