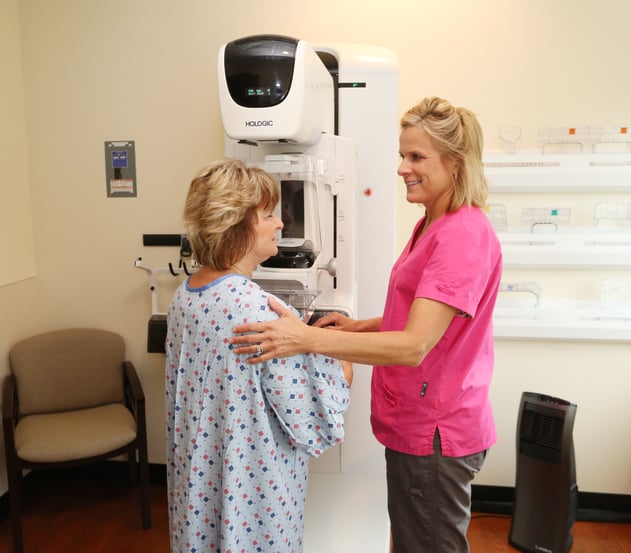 You've probably heard that one in eight women develops breast cancer during her lifetime. Steps such as staying active, maintaining a healthy weight, eating a healthy diet, and limiting alcohol consumption can help reduce your risk, but even the healthiest lifestyle is no guarantee against breast cancer. Major medical associations including the American College of Radiology, the Society for Breast Imaging,[1] and the National Comprehensive Cancer Network[2] recommend annual mammography screening for women who are at least 40 years old and at average risk for breast cancer.
Mammograms enable doctors to detect breast cancer earlier.
Mammography has been shown to lead to early breast cancer detection, enabling doctors to see signs of developing cancer before the patient develops noticeable symptoms. Patients whose cancers are found and treated earlier have a better prognosis than those with late-stage cancers, typically undergoing less invasive treatments experiencing much higher survival rates.[3]
3-D mammography is an important advance in breast imaging.
Also known as breast tomosynthesis, 3-D mammography is associated with increased cancer detection and lower recall rates. A study of more than 450,000 mammograms published in JAMA showed that compared with 2-D digital mammography alone, the addition of tomosynthesis resulted in
15% fewer recalls
29% increase in overall cancer detection
41% increase in detection of invasive cancers

[4]
Additionally, 3-D mammography has been found to increase cancer detection in women with dense breasts.[5] This is significant because dense breast tissue is associated with an increased risk of breast cancer and also makes it more difficult to spot developing cancer on a mammogram. The images generated using 3-D mammography allow radiologists to see features that would be obscured by dense tissue on a 2-D mammogram, making it possible to more accurately detect cancer in these patients.
The radiation dose used in mammography is very small.
You may worry about your exposure to radiation during a mammogram. The fact is that a mammogram delivers about the same amount of radiation you absorb from natural environment, through sources such as sunlight and radon, over about seven weeks' time.[6]
Mammography is quick and easy.
A mammogram involves only a 30-minute appointment, about 15 minutes of which is spent capturing images. Each image takes only a few seconds of compression time. You can resume your normal activities immediately after your appointment. If you're new to mammography, read our article, "8 Things to Expect at Your First Mammogram."
At Iowa Radiology, we pride ourselves on exceptional care and take steps to make our patients as comfortable as possible during their time with us. Feel free to contact us with any questions you have about procedures anticipated or performed at our clinics or access the resources below on mammography and follow up.
[1]"ACR and SBI Continue to Recommend Regular Mammography Starting at Age 40."SBI-online.org. American College of Radiology and Society of Breast Imaging, 20 Oct 2015. Accessed 26 March 2018.
[2] "Breast Cancer Screening for Women at Average Risk." Komen.org. Susan G Komen, 8 Aug 2017. Accessed 26 March 2018.
[3] "Breast Cancer Screening." Radiologyinfo.org. Radiological Society of North America, 25 Sept 2018. Accessed 26 March 2018.
[4] Madden, Kate Yee. "JAMA: Adding Tomo to Mammography Finds More Cancer." AuntMinnie.com, 24 Jun 2014. Accessed 26 March 2018.
[5] Rafferty, et al. "Breast Cancer Screening Using Tomosynthesis and Digital Mammography in Dense and Nondense Breasts." JAMA. American Medical Association, 26 April 2016. Accessed 26 March 2018.
[6] "Mammogram Basics." Cancer.org. American Cancer Society, 9 Oct 2017. Accessed 26 March 2018.
The information contained in the Iowa Radiology website is presented as public service information only. It is not intended to be nor is it a substitute for professional medical advice. You should always seek the advice of your physician or other qualified healthcare provider if you think you may have a medical problem before starting any new treatment, or if you have any questions regarding your medical condition.
Iowa Radiology occasionally supplies links to other web sites as a service to its readers and is not in any way responsible for information provided by other organizations.