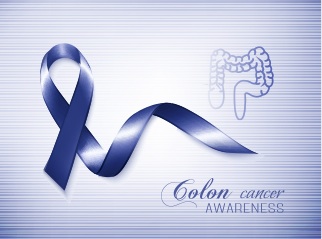 Colorectal cancer is the third most common cancer and the second-leading cause of cancer deaths in the U.S. It often begins with the growth of a polyp on the inside of the colon. Early detection dramatically increases the survival rate among those diagnosed with colorectal cancer, and regular screening is an important tool for prevention as well as detection. Knowing what signs to look for and understanding the benefits of screening can better enable you to prevent or survive the illness.
Risk
The average risk of developing colorectal cancer is 1 in 20, although several factors can influence an individual's personal risk of the disease. For example,
Family History – Those who have close relatives with colorectal cancer may be at 2 to 3 times the average risk. Certain genetic conditions can also predispose you to the disease.
Age – 90% of diagnoses are in patients 50 or older.
Race – African Americans are at higher risk.
Physical condition – Obesity, lack of sufficient exercise, a high-fat/low-fiber diet, heavy alcohol consumption, and tobacco use can increase risk.
Medical history – Patients with a history of diabetes, inflammatory bowel disease, polyps, or previous colorectal cancer experience higher rates of colorectal cancer.
Symptoms
Colorectal cancer can grow without symptoms in its early stages, which makes regular screening all the more important. When symptoms do appear, they can vary depending on the size and exact location of the tumor. Symptoms may include
Diarrhea, constipation, or other change in stool consistency lasting more than 4 weeks
Feeling that bowel never completely empties
Rectal bleeding or blood in stool
Persistent abdominal pain or discomfort
Unexplained weight loss
Fatigue
Screening
The American Cancer Society recommends screening beginning at age 50 for those at average risk. If you are at increased risk, your doctor will recommend a screening regimen based on your personal risk factors. Screening methods that find polyps as well as cancer are important because removal of polyps before they become cancerous can prevent cancer from occurring in some patients. These include
Flexible sigmoidoscopy (recommended every 5 years for those at average risk)
Double-contrast barium enema (every 5 years)
CT colonography (also known as virtual colonoscopy, every 5 years)
Colonoscopy (every 10 years)
If a colonoscopy is being performed, polyps are most often removed during the procedure. Any abnormal structures, such as tumors or large polyps, will be biopsied to determine whether cancer or precancerous cells are present. If cancer is found, then further tests may be performed to better identify the type of cancer. Testing for specific genetic changes can provide doctors important information about how the cancer might best be treated.
Benefits of CT Colonography
CT colonography is a minimally invasive procedure that employs computed tomosynthesis (CT) to obtain X-ray images of the colon from the outside. As a result, there is a significantly lower risk of complications, and the procedure does not require sedation. It has the added benefit of imaging areas outside of the colon as well, sometimes identifying problems such as other types of cancer and aneurysms that would not appear on a traditional colonoscopy. For more detailed information about virtual colonoscopy, see our previous article, "What is a Virtual Colonoscopy or CT Colonography?"
We're dedicated to providing our patients the information they need to make the best possible decisions about their health care. To learn more about a common imaging procedure, download our guide to MRIs.
The information contained in the Iowa Radiology website is presented as public service information only. It is not intended to be nor is it a substitute for professional medical advice. You should always seek the advice of your physician or other qualified healthcare provider if you think you may have a medical problem before starting any new treatment, or if you have any questions regarding your medical condition. Iowa Radiology occasionally supplies links to other web sites as a service to its readers and is not in any way responsible for information provided by other organizations.
Sources
"American Cancer Society recommendations for colorectal cancer early detection." Cancer.org. American Cancer Society, n.d. Web. 25 Oct 2015.
"Colon Cancer." MayoClinic.org. Mayo Foundation for Medical Education and Research, n.d. Web. 25 Feb 2016.
"Colorectal Cancer – Patient Version." Cancer.gov. National Cancer Institute, n.d. Web. 25 Feb 2016.
"Colorectal Cancer – Statistics." Cancer.net. American Society of Clinical Oncology, Aug 2015. Web. 25 Feb 2016.
"Five Myths About Colorectal Cancer." Cancer.org. American Cancer Society, n.d. Web. 25 Feb 2016.
"Frequently Asked Questions About Colonoscopy and Sigmoidoscopy." Cancer.org. American Cancer Society, 2 Feb 2016. Web. 25 Feb 2016.
"Statistics." CCAlliance.org. Colon Cancer Alliance, 1 Oct 0215. Web. 25 Feb 2016.