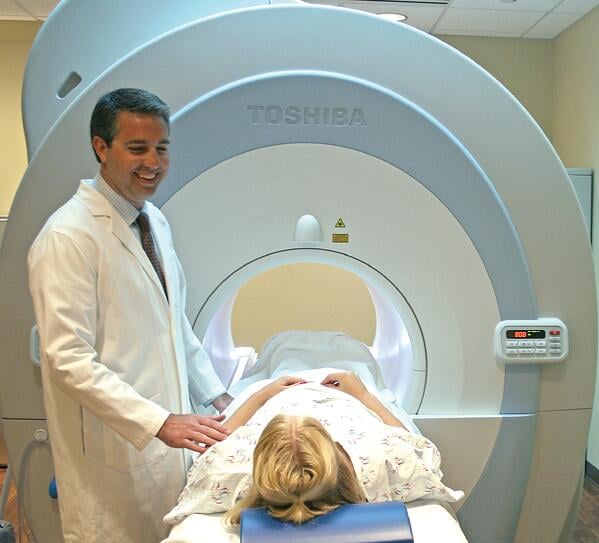 When it was first used on a human subject in 1977, Magnetic Resonance Imaging (MRI) was an important advance in medical imaging, making it possible for the first time to create detailed images that can provide vital health information without using harmful ionizing radiation. Instead, MRI uses powerful magnets that cause the protons of hydrogen atoms in the body to align in a way that can be translated into three-dimensional images, which can then be examined closely by a radiologist. As a result, MRI is a very safe way for many patients and their doctors to get the information they need to plan an effective course of treatment.
Magnet-Related Risks
MRI is not, however, entirely without risk. An MRI magnet is extremely powerful and can cause any ferromagnetic objects in its vicinity to move suddenly and forcefully toward the cylinder. That means it's critically important that everyone (patients, visitors, and staff alike) strictly adhere to MRI protocols and not bring anything into the room that isn't allowed. Oxygen tanks, wheelchairs, gurneys, office chairs, and other large objects have been sent flying dangerously toward MRI tubes, sometimes causing serious or fatal injuries. Choosing an American College of Radiology (ACR) accredited facility will ensure that your MRI provider meets strict standards for safety and staff qualifications.
Ferromagnetic items don't have to be large to cause serious problems during an MRI. Be sure to follow all of the clinic's protocols about removing cosmetics, jewelry, clothing, hearing aids, and other items before entering the exam room. If you have tattoos, discuss this with your provider before the exam, as some inks can contain metal ingredients (such as iron in reds), which can become heated by the action of the magnet and cause burns.[1] Even more importantly, make sure to alert your provider to any implanted medical devices, shrapnel, aneurysm clips, or other objects that may be embedded in your body. Some of these are unsafe in an MRI machine; so, if they cannot be removed, then MRI may be contraindicated for you. Others are safe only under certain conditions, making it vitally important that your MRI provider be fully aware of their presence so they can take all steps necessary to ensure your safety as well as the safety of others in the room.
Contrast-Related Risks
Some MRI exams use gadolinium-based contrast solution to sharpen image detail and acquire the precise information your doctor seeks. Unlike the contrast solution commonly used in CT exams, MRI contrast does not contain iodine, making it safer for many patients because it's less likely to cause an allergic reaction. Severe allergic reactions occur in only about 1 in 10,000 patients; a skin rash develops in about in in 1,000 (usually disappearing within 24 hours), and more common adverse reactions include headache, nausea, or dizziness that subside soon after the injection is given.[2]
If, however, you have a history of kidney or liver problems, it's very important that you alert your doctor because this contrast solution may be specifically contraindicated for you. Among patients with impaired kidney function, gadolinium-based contrast can increase the risk of a painful and often fatal condition called nephrogenic systemic fibrosis (NSF), which causes the skin to thicken and harden, impairing movement. If your doctor recommends MRI despite an increased risk of NSF, then special precautions will be taken to minimize that risk.[3]
If your doctor has recommended an MRI, she or he has determined that the information it can provide is of great enough benefit to outweigh any and all risks involved with the procedure. To ensure that your MRI is as safe as possible, be sure to discuss any concerns you have with your doctors; thoroughly answer all questions that your imaging clinic asks when taking your medical history; and carefully follow all the instructions you're given for the exam.
Still have questions about an upcoming MRI exam? Click below to download our free eBook about the procedure, or contact our clinic directly.
The information contained in the Iowa Radiology website is presented as public service information only. It is not intended to be nor is it a substitute for professional medical advice. You should always seek the advice of your physician or other qualified healthcare provider if you think you may have a medical problem before starting any new treatment, or if you have any questions regarding your medical condition.
Iowa Radiology occasionally supplies links to other web sites as a service to its readers and is not in any way responsible for information provided by other organizations.
[1] "Do MRI Machines Affect Tattoos?" LiveScience.com. n.p., 1 Sept 2010. Web. 19 Jan 2017.
[2] "Gadolinium Contrast Medium (MRI Contrast agents)." Inside Radiology. Royal Australian and New Zealand College of Radiologists, 18 Aug 2016. Web. 19 Jan 2017.
[3] "MRI: Is gadolinium safe for people with kidney problems?" MayoClinic.org. Mayo Foundation for Medical Education and Research, 16 May 2014. Web. 19 Jan 2017.