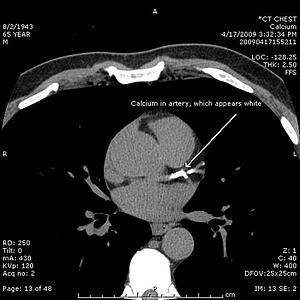 Cardiac calcium scoring, also known as a cardiac CT scan or heart scan, is used determine the presence and extent of calcified plaque in the coronary arteries in the interest of identifying coronary artery disease (CAD). Coronary arteries do the work of providing oxygen-rich blood to the heart. The calcification that can occur within these arteries is the result of the buildup of fat and other substances beneath the inner layer of the artery and indicates atherosclerosis, or coronary artery disease.
Cardiac Calcium Scoring
Cardiac calcium scoring is performed using computed tomography (CT) imaging. CT provides a more finely detailed image of blood vessels and soft tissue than traditional X-rays because it uses an array of images taken around the area of the body being studied. This collection of two-dimensional images is reassembled using computer software into a detailed, multidimensional view of the coronary arteries. Although a large number of images are collected, the procedure itself is quite brief.[1]
Through examination of this multidimensional image, the radiologist can detect calcium present in the arteries, which is then expressed through a calcium score. A patient's calcium score can help to predict his or her chances of suffering a heart attack and guide in treatment and/or lifestyle decisions. A score of zero indicates no evidence of CAD and a very low risk of heart attack in the next 2-5 years.[2] A score of over 400, on the other hand, suggests a high risk of heart attack, a high probability of artery blockage, and a need for treatment. A score of 11-100 signals mild heart disease. In this case, your physician may recommend lifestyle changes, such as smoking cessation, diet changes, and exercise, and possible additional treatment.[3]
Patients typically referred for cardiac calcium scoring include those with risk factors for heart disease, even if they do not suffer symptoms. Risk factors for coronary artery disease include
Family history of heart attack
High blood pressure
High LDL cholesterol level
Diabetes
Obesity
Cigarette smoking
Physical inactivity
The buildup of plaque in the arteries can inhibit blood flow to the heart, causing angina, or chest pain, and heart attack. Detecting this buildup before symptoms occur provide the opportunity to treat the problem proactively and prevent further damage to the arteries.
Iowa Radiology offers cardiac calcium scoring to our patients. A provider's referral is required. CT calcium scoring is one of the most advanced methods of detecting heart disease in its early stages. Check out our online brochure for information about your potential risk of CAD. If you are at risk, talk to your doctor about whether cardiac calcium scoring is a good choice for you. Feel free to call us with any questions you may have about your procedure. Cardiac calcium scoring is available at our Clive and Downtown Des Moines locations.
For more health tips and information about treatment options, subscribe to our blog.
The information contained in the Iowa Radiology website is presented as public service information only. It is not intended to be nor is it a substitute for professional medical advice. You should always seek the advice of your physician or other qualified healthcare provider if you think you may have a medical problem before starting any new treatment, or if you have any questions regarding your medical condition.
Iowa Radiology occasionally supplies links to other web sites as a service to its readers and is not in any way responsible for information provided by other organizations.
Sources
[1] http://www.radiologyinfo.org/en/info.cfm?pg=ct_calscoring
[3] http://umm.edu/programs/diagnosticrad/services/technology/ct/cardiac-calcium-scoring