Tendinitis (also spelled "tendonitis") is a painful condition involving an inflamed or irritated tendon (the strong, rope-like tissues which attach muscles to bones). Most common in shoulders, elbows, wrists, knees, and heels, tendinitis is often considered a normal, if unpleasant, consequence of age or activity.
How do I know if I have tendinitis?
The most characteristic sign of tendinitis is dull, achy pain in the joint, where the tendon attaches to the bone. Other symptoms can include stiffness, which is often worse in the morning; weakness in the affected area or being unable to move a joint; swelling, sometimes with heat or redness; a sensation that the tendon is grating or crackling as it moves (this may be felt on examination); or a lump that develops along the tendon.[1]
What causes tendinitis?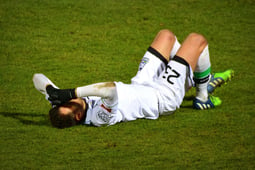 Although tendinitis can be caused by a sudden injury, it's usually caused by repetition of a certain movement over time. Repetitive motions put stress on the tendons involved, which become swollen and painful. Hobbies involving precise, limited motions frequently cause tendinitis issues (for example, tennis or golfer's elbow, pitcher's or swimmer's shoulder, jumper's knee, etc.). Repetitive work motions, such as working on a production line in a factory, can also cause tendinitis, especially in the wrists, elbows, and shoulders. As you age and perform those motions for many years, your tendons become less flexible and resilient and more likely to become inflamed and develop tendinitis.
When should I seek treatment for my tendinitis?
Your doctor will likely advise conservative treatment of your tendinitis at first, using the "RICE" method (rest, ice, compression, and elevation), physical therapy, and anti-inflammatory medication. If your symptoms persist, however, more aggressive treatment may be appropriate. Without proper treatment, chronic tendinitis can increase your risk of tendon rupture, a much more serious condition that may require surgical repair. If tendon irritation persists for several weeks or months, it may turn into tendinosis, a condition which involves degeneration of the tendon and abnormal new blood vessel growth.
Your doctor may recommend corticosteroid injections to help ease inflammation and pain. However, repeated injections may weaken a tendon and increase your risk of it rupturing. If more conservative measures fail, one option is surgical repair; another innovative solution that we offer at Iowa Radiology at UnityPoint Iowa Lutheran outpatient radiology is the Tenex Health TX procedure.
Tenex is a quick, outpatient procedure taking about 20 minutes that does not require stitches. The needle contains a minimally invasive instrument called the TX MicroTip, which uses gentle ultrasonic energy designed to safely break down and remove damaged tissue. Once the pain-causing tissue is removed, the body's natural healing response takes over to regenerate normal, healthy tissue. It's quicker and less painful than surgery; most patients return to full functionality within about six to eight weeks with significant reduction in pain and restoration of mobility.
With so many treatment options, it's never been a better time to talk with your doctor about treating your tendinitis. Looking for more information about additional treatments and tips to stay healthy? Subscribe to our blog.
The information contained in the Iowa Radiology website is presented as public service information only. It is not intended to be nor is it a substitute for professional medical advice. You should always seek the advice of your physician or other qualified healthcare provider if you think you may have a medical problem before starting any new treatment, or if you have any questions regarding your medical condition. Iowa Radiology occasionally supplies links to other web sites as a service to its readers and is not in any way responsible for information provided by other organizations.
Sources
[1] http://www.nhs.uk/Conditions/Tendonitis/Pages/Symptoms.aspx