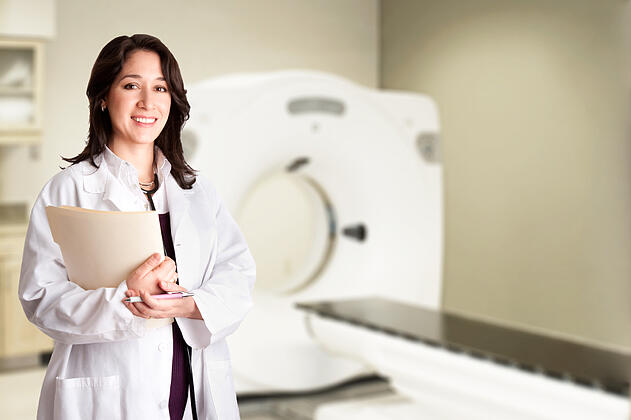 March Is National Colorectal Cancer Awareness Month
Since 2000, March has been designated National Colorectal Cancer Awareness Month. The American Cancer Society estimates that 1 in 22 men and 1 in 24 women in the U.S. develops colorectal cancer at some point in their lives and that this year, more than 50,000 will die of the disease in this country.[1] Regular screening can not only help detect this disease early, making it more treatable, but it can also help prevent colorectal cancer by identifying polyps before they become cancerous.
Screening Recommendations
The American Cancer Society (ACS) recommends that people at average risk for colorectal cancer undergo tests capable of identifying both polyps and cancer. This gives patients the best chance of preventing cancer before it occurs. These tests include
Traditional colonoscopy every 10 years
Virtual colonoscopy (CT colonography) every 5 years
Flexible sigmoidoscopy every 5 years
Double-contrast barium enema every 5 years
The ACS recommends that a positive result from any of the alternatives to traditional colonoscopy should be followed up with colonoscopy, which is necessary to remove significant polyps that are found.
The major professional organizations make similar recommendations with some variations. For example, the American College of Gastroenterology recommends that African American patients at average risk begin screening at age 45. Research has shown that African Americans are more likely to develop colorectal cancer at an earlier age, be in a more advanced stage of the disease at diagnosis, and have worse prognoses even when diagnosed early. Because the rate of colorectal cancer in Africa is much lower than in the U.S., these disparities are thought to have a large environmental component.[2]
What Is Virtual Colonoscopy?
Rather than using a camera to observe the colon from the inside (as in traditional colonoscopy), a virtual colonoscopy uses computed tomography (CT) to create a three-dimensional image of the colon. A small, flexible tube is used to gently pass carbon dioxide into the colon, inflating it in order to obtain clearer images. Then, images are taken with the patient facing up and facing down on the exam table. The entire procedure takes about 15 minutes, and no sedatives are needed.
Advantages of Virtual Colonoscopy
Studies have shown traditional colonoscopy to be more effective than sigmoidoscopy or barium enema for detecting abnormalities.[3],[4] Virtual colonoscopy, however, has been found to achieve detection rates similar to those of traditional colonoscopy with fewer complications.[5],[6] Additionally, CT colonography enables doctors to detect some abnormalities outside of the colon, such as early-stage cancers in nearby organs and abdominal aortic aneurysms.[7]
Limitations and Risks
While CT colonography can be a beneficial alternative for many patients, it is not the best choice for everyone, and it carries some risks.
CT colonography is not recommended for pregnant patients or those with inflammatory bowel disease, diverticulitis, or a history of bowel perforation.
Inflating the bowel proses a small risk of perforation, which is estimated to occur in fewer than 1 in 10,000 patients.
CT colonography may be less able to identify small polyps than traditional colonoscopy.

[8]

CT relies on ionizing radiation, which is associated with an increased risk of cancer, to produce images. CT colonography delivers approximately the same amount of radiation as a person receives from the natural environment over two years.

[9]
Iowa Radiology offers virtual colonoscopy at our clinic in downtown Des Moines. For more information on CT scans including colonography, click the link below to access our free ebook.
[1] "Key Statistics for Colorectal Cancer." Cancer.org. American Cancer Society, 4 Jan 2018. Accessed 9 Feb 2018.
[2] Hall, Kathleen. "Why Are African-Americans at Greater Risk for Colorectal Cancer?"
[3] Sidney J. Winawer, M.D., et al. "A Comparison of Colonoscopy and Double-Contrast Barium Enema for Surveillance after Polypectomy." NEJM.org. Massachusetts Medical Society, 15 June 2000. Accessed 13 Feb 2018.
[4] Aline Charabaty, MD. " Sigmoidoscopy or Colonoscopy for Colorectal Cancer Screening: Is It Still the Question?" The ASCOPost. HSP News Service, L.L.C., 1 Dec 2014. Accessed 13 Feb 2018.
[5] "CT Colonography versus Colonoscopy for the Detection of Advanced Neoplasia." NEJM.org. Massachusetts Medical Society, 4 Oct 2007. Accessed 13 Feb 2018.
[6] Perry J. Pickhardt, MD, et al. "Colorectal Cancer: CT Colonography and Colonoscopy for Detection—Systematic Review and Meta-Analysis." RSNA Radiology. Radiological Society of North America, May 2011. Accessed 13 Feb 2018.
[7] "CT Colonography." Radiologyinfo.org. Radiological Society of North America, 17 March 2016. Accessed 13 Feb 2018.
[8] Ibid.
[9] "Radiation Dose to Adults From Common Imaging Examinations." Radiology.org. Radiological Society of North America, 14 Dec 2017. Accessed 13 Feb 2018.
The information contained in the Iowa Radiology website is presented as public service information only. It is not intended to be nor is it a substitute for professional medical advice. You should always seek the advice of your physician or other qualified healthcare provider if you think you may have a medical problem before starting any new treatment, or if you have any questions regarding your medical condition.
Iowa Radiology occasionally supplies links to other web sites as a service to its readers and is not in any way responsible for information provided by other organizations.