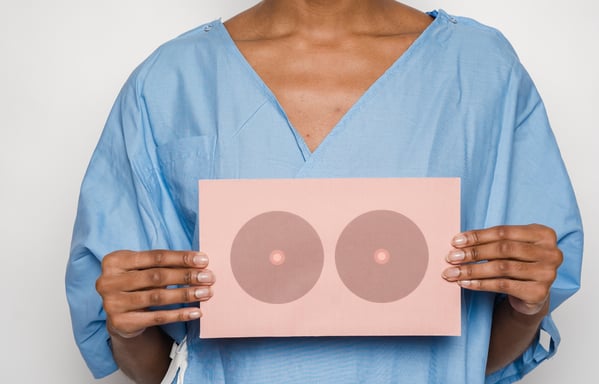 Following a mastectomy to remove breast cancer, some women undergo reconstructive surgery, and some do not. The decision is very personal, and the right choice for each woman is the one that best supports her physical and mental health. Some women delay breast reconstruction surgery so they can take their time to decide. Sometimes, however, reconstruction isn't possible due to health complications or cost barriers.
Mastectomy Without Breast Reconstruction
The majority of women who undergo mastectomy do not have reconstructive surgery. Data compiled by the federal Agency for Healthcare Research and Quality indicates that in 2014, just 40% of mastectomy patients had breast reconstruction.[1] Many wish to avoid the additional risks involved with reconstructive surgery and with breast implants, and some women are simply more comfortable with their bodies post-mastectomy.
A recent study of 931 mastectomy patients who did not have reconstructive surgery found that nearly three quarters of them were satisfied with the outcome of their surgery.[2] At the same time, however, a significant number of women (22.2%) reported that their surgeons either didn't support their choice to forego reconstruction or didn't offer it as an option. Some women who expressed a clear intention to avoid reconstructive surgery reported that their surgeons left extra skin in the breast area in case they changed their minds later—contrary to their wishes.[3]
If you opt not to have reconstructive surgery, make sure to find a surgeon who is fully supportive of your choice. Of the women included in the study cited above, 27% were not satisfied with the appearance of their chest wall, and those whose decisions were not supported by their surgeons were more likely to be in this category.[4] Often, because of the expectation that women will have breast reconstruction, surgeons don't take measures to preserve the appearance of the chest wall after mastectomy. Some surgeons, however, have experience with "aesthetic flat closure," which minimizes excess tissue to create a more pleasing post-mastectomy appearance.
After surgery, you can choose either to embrace your new shape (often referred to as "going flat") or wear a prosthetic.
Prosthetics
Most breast forms are made to mimic the weight and movement of natural breasts. If you have only one breast removed, a prosthetic breast can be particularly useful for maintaining your balance and posture. It's important, however, to wait until your doctor tells you you've healed sufficiently from your mastectomy before being fitted for a prosthesis.
Custom Breast Forms
Prosthetics can be custom-made or bought off the shelf. Custom-made prosthetics are designed to closely fit each woman's body and match her skin tone. Commonly made of silicone or latex, custom breast forms can closely mimic the look at feel of natural breasts and shift less than off-the-shelf varieties due to their close fit. Custom prosthetics are more expensive, however, and they're typically not covered by insurance.
Pre-Made Breast Forms
You can also buy high-quality breast forms off the shelf at many surgical supply stores and custom lingerie shops. You can buy mastectomy bras, which come with pockets for holding breast forms or have pockets sewn into other bras of your choice. Alternatively, you can select breast forms with adhesives or magnets that allow you to wear them without a bra.
Pre-made forms can be made with foam or fiberfill, silicon, or polypropylene beads, which form to the shape of the bra. Foam or fiber-filled breast forms are lightweight and breathable, making them preferable for post-surgery wear, warm weather, and active lifestyles.
In Iowa, Unity Point Health hosts Women's Health Boutiques in Clive, Fort Dodge, and Sioux City, where certified prosthetic fitters help women select prosthetics that fit comfortably and create the appearance they desire. Staff can also help patients select products that are covered by their insurance. Coverage varies but often includes two to four mastectomy bras and new prostheses every year or two. Be sure to check with your insurance carrier so you know what they will cover before you buy, and save your receipts.
Going Flat
Despite pressures on women to conform to social expectations of femininity, a growing number of mastectomy patients are embracing the breast-free form. "The Flat Movement" seeks to raise awareness of going flat as a viable option and advocate for women who make this choice. Whatever decision you make about your body, you deserve support. Seek out friends, family members, mental health professionals, and medical professionals who respect your choices and your bodily autonomy.
At Iowa Radiology, we strive to provide the health information you need to make important health care decisions. To stay up to date on our latest articles, subscribe to our blog. For more in-depth discussions of selected topics, browse our free resources.
Resources
[1] Miller AM, Steiner CA, Barrett ML, et al. Breast Reconstruction Surgery for Mastectomy in Hospital Inpatient and Ambulatory Settings, 2009–2014. HCUP-US.AHRQ.gov. https://www.hcup-us.ahrq.gov/reports/statbriefs/sb228-Breast-Reconstruction-For-Mastectomy.pdf. Published October 2017. Accessed September 15, 2021.
[2] Baker JL, Dizon DS, Wenziger CM, et al. "Going Flat" After Mastectomy: Patient-Reported Outcomes by Online Survey. Ann Surg Oncol 2021;28:2493–2505. http://doi.org/10.1245/s10434-020-09448-9. Accessed September 15, 2021.
[3] Most Women Satisfied with Choice to Go Flat After Mastectomy, but Choice Not Supported by Many Surgeons. Breastcancer.org. Published January 11, 2011. Accessed September 15, 2021.
[4] Ibid.